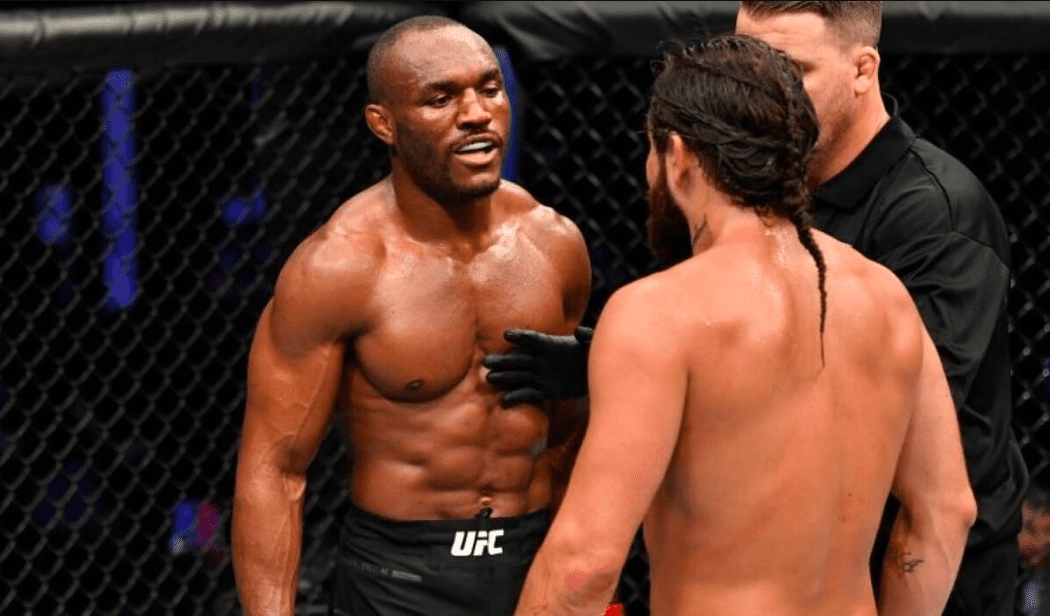 Few will have quite the same perspective on this weekend's UFC 272 main event between Jorge Masvidal and Colby Covington than the man who both of them are chasing.
Kamaru Usman owns two wins against both of the UFC 272 headliners, and has spent 50 minutes in the cage with Covington and a little over 30 minutes with Masvidal — and having tested what both men have to offer, he suggests that one fighter may have a significant advantage over the other when the first bell rings.
"I think [Masvidal] could potentially win the fight because one thing about Masvidal is he is one of the only guys who in his stance is so tall in his stance but he is able to defend takedowns from some of the best wrestlers," said Usman to ESPN, via sportskeeda.
"He's very very good at striking, so relaxed and so fast and he's able to touch you. He might not feel as hard but he can touch that button to be able to shut the lights off and I mean, being able to run across the Octagon in five seconds, landing knee like that just shows a different level of athleticism."
Of course, both Masvidal and Covington will likely have an idea of what to expect themselves after the countless hours that they have spent on the mats while they were training partners at American Top Team in Florida but given that it's been quite a while since they have trained together, it is likely that the fight could be won by whoever is able to maximise their natural athletic advantages early and build a lead from there.
If Covington can dominate the grappling he will likely surge ahead on the scorecards but if Masvidal is able to gain a foothold on the feet and stifle takedowns, the balance may well tip in his favour.
And Usman says that Masvidal's natural advantages should make him favourite.
"He's an athlete," Usman added of Masvida. "He's a skilled striker, he's a skilled fighter, and he definitely has the tools to be able to land that shot to steal this fight away from Covington. So, I'm excited, I can't wait, I will be there. I haven't been to a fight in a long time."
Comments
comments