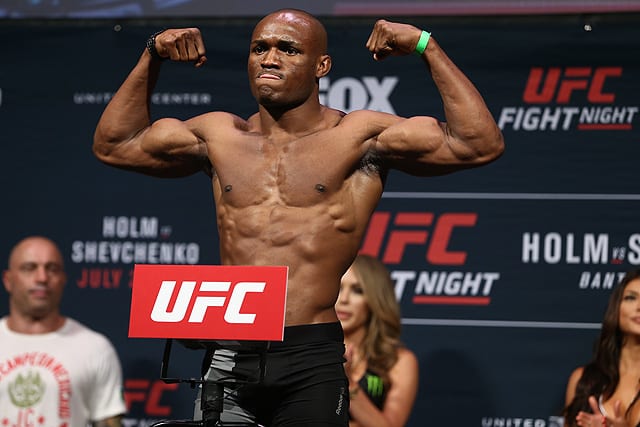 Kamaru Usman doesn't plan on overcomplicating things in his proposed rematch with Leon Edwards.
The two welterweights first fought in December 2015, with Usman dominating the bout with a grappling-heavy approach en route to a unanimous decision win. Since then, Edwards has vigorously campaigned for a rematch and looks likely to get it this summer once Usman recovers from a hand injury.
Since that defeat to Usman nearly seven years ago Edwards is undefeated in the UFC, winning ten straight fights against the likes of Nate Diaz, Rafael Dos Anjos, Donald Cerrone and Victente Luque, and knows that one more win on his record will bring with it UFC gold.
Usman, though, says that he knows where the past opponents went wrong — and that he won't necessarily engage in prolonged stand-up exchanges with Edwards like he has done in recent title defences against Jorge Masvidal and Colby Covington.
"He said that if I step in there with him, I won't be striking the way that I am now. So, I'll oblige. I'll give it to you, I will not strike," Usman said in an interview with MMA Junkie.
"I am coming in to wrestle, I'm going to take him down, I'm going to beat on his face until he quits so don't expect me to strike at all. No, I'm going to wrestle, don't expect me to strike, don't expect me to strike since I'm not a good striker. Don't expect me to strike, I'm coming to take him down and I'm going to beat his face."
Now, it should be noted that Usman's comments here should be taken with a pinch of salt given that he has shown in recent outings that he has a very effective striking game, particularly when added to the constant threat of a takedown. Both Masvidal and Covington have been floored by Usman's punches in their recent fights (with Masvidal knocked out cold with a particularly stunning shot in their rematch).
Either way, it seems that Edwards' desire to get a shot against Usman after embarking on the division's second-longest winning streak will finally become a reality in just a few months time — and as far as he is concerned, it won't have a come a second too early.
Comments
comments