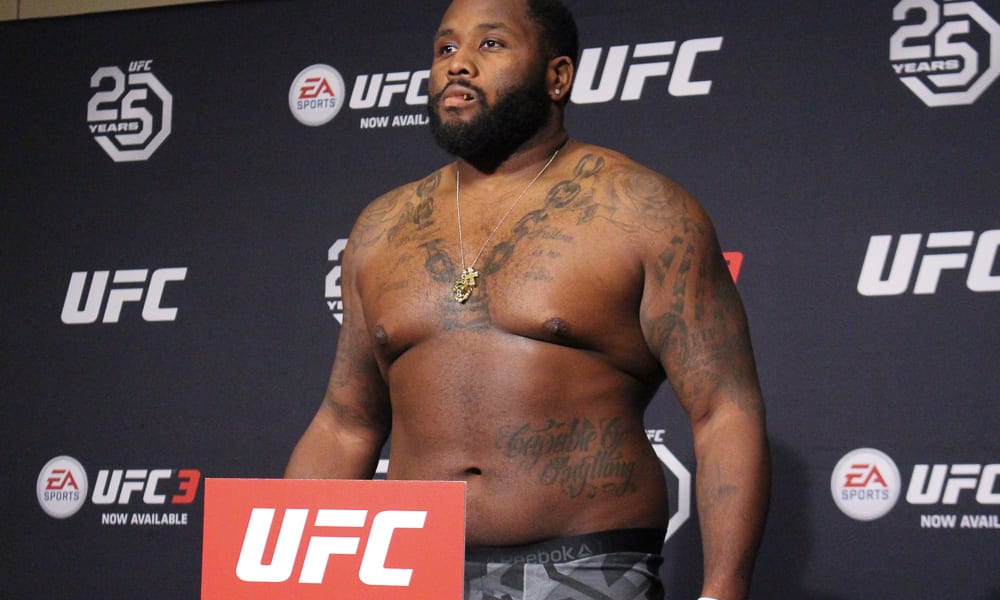 Justin Willis has admitted he's been released by the UFC after initially disregarding the reports as a misunderstanding between himself and the promotion.
While the company never stated an official reason, Willis was supposedly released after he declined to fight Walt Harris due to wanting to lose weight before accepting another fight after suffering an embarrassing loss to Curtis Blaydes.
Now, Willis has acknowledged that talk.
"Right now, according to management, yes [I've been released] after my request got denied essentially," Willis said, speaking with Submission Radio. "And so what we've been trying to do is, trying to essentially… the only thing that makes sense, again, is to fight Tai. But yes, that is a reality of mine, is that I have been released because I did ask for that fight and I did ask for those requests, and those requests have been denied."
According to Willis, he asked the UFC for three things before he accepted another contest with the promotion.
"There were three things. After my last fight, which was not a good performance on my behalf, and I can admit that as a man. And what I do is, I learn, grow, conquer. I get back to the drawing board, which I have done and I have gotten better," he said. "So, after my last fight, what I decided to do was, since this guy was talking, it was a three-fold thing. One of the things was I wanted to actually have a chance to go through a full training camp with DC, which I'm doing. That's number one.
"Number two, I wanted to get my weight down. And I'm at that weight. That's number two. And these are things that I presented to the UFC, which are all logical things. And if the promotion truly wanted me to get better, these are things that anybody who is thinking without emotion would understand. Especially after Tai Tuivasa got knocked out, after Ngannou got controlled by Stipe, after all these different circumstances, these guys got time to actually go get better. Right? And we all see what happened with Ngannou after the Stipe fight and after Derrick Lewis. He's been on a tear because he fixed whatever he needed to fix to get better. Which is fair. So, all these guys, they got time to actually get better. The only thing I asked for was a little bit more time so that I can get better, which I have. I've kept my word.
"And the third reason was to actually get Tuivasa. Because I know if I would've been booked, there wouldn't have been a reality, they would've done what you're seeing today. They're hiding him. But it would've been a lot worse. So, the situation is clear. The only fight that makes sense for him, the UFC knows it, the fans know it, you know it, he knows it, I know it, everybody knows that because of how he spoke and how he is being now, it's pretty evident that the only fight that makes sense for him is who? Is me."
Comments
comments