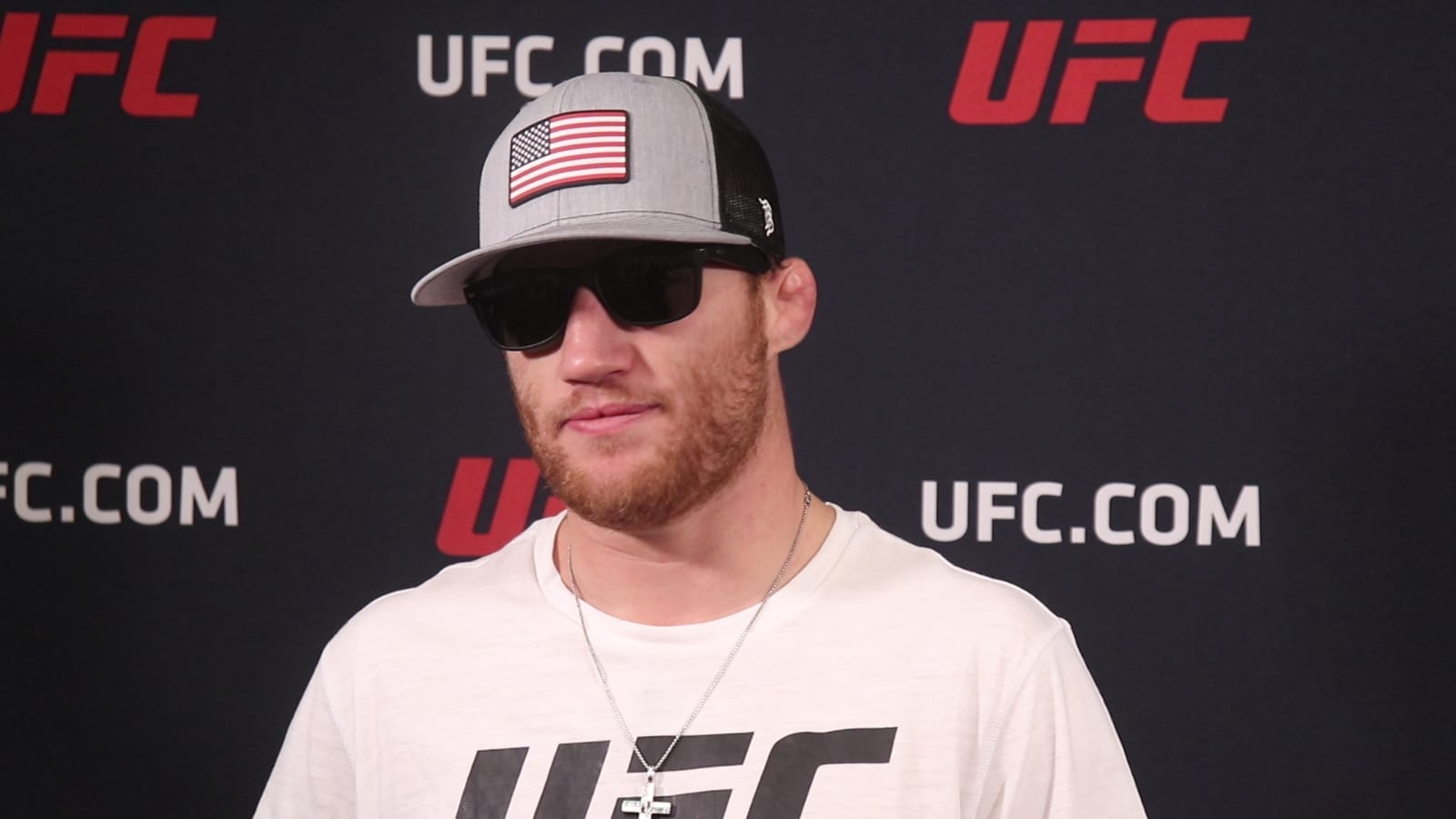 Justin Gaethje believes that whoever wins out of Tony Ferguson and Khabib Nurmagomedov, he's the one fighting them next.
The UFC lightweight has been on a tear of late, refining his traditionally wild brawling style to earn three first-round knockouts in his last three fights. Because of that run, Gaethje considers himself to be the next number one contender to the 155-pound title, and has staked his claim on whomever walks out April 18 victorious.
He's also aware, however, that opportunities in this sport often come unexpectedly and out of nowhere.
Nurmagomedov and Ferguson have been previously scheduled to compete on four separate occasions, with each time being scuppered by some injury or issue. With that in mind, Gaethje knows that anything can happen and a last minute opening could appear in April.
He knows that, but he also knows he finds motivation hard to come by when an opponent isn't set in stone. Still, as he said to Luke Thomas on SiriusXM, if the UFC want him to be there, he can be there.
"If they cover the cost of the training camp, then I'm in," Gaethje said. "I need to get in shape again anyways, so it wouldn't hurt. You know what it is. Financially it's a commitment, especially for a fight like that, you know? I want to fight Khabib. I've got to fight Khabib. If that's how it goes down, I'll only be mad at myself if I'm not ready for it."
🔊 @Justin_Gaethje discusses where he fits into the UFC lightweight landscape and his conditions for being a backup for Khabib vs Ferguson 👊🦅😎 #TLTS@lthomasnews
⬇️⬇️⬇️⬇️⬇️⬇️⬇️⬇️⬇️⬇️⬇️⬇️⬇️⬇️⬇️⬇️⬇️⬇️ pic.twitter.com/6lK65IySbe

— MMA on SiriusXM (@MMAonSiriusXM) December 3, 2019
If the UFC don't want to pay the extra just to be sure someone's ready to step in if something should happen for a fifth time, then Gaethje says he's still in pole position.
"I'm the guy waiting for the title shot," Gaethje said. "I've got the winner of the fight in April as far as I'm concerned. Three knockouts in a row. I'm not sure what else I need to do. If there's someone else in the way, I'd have to go through them. But I don't think there is, so the winner of that is looking like the most likely."
Comments
comments