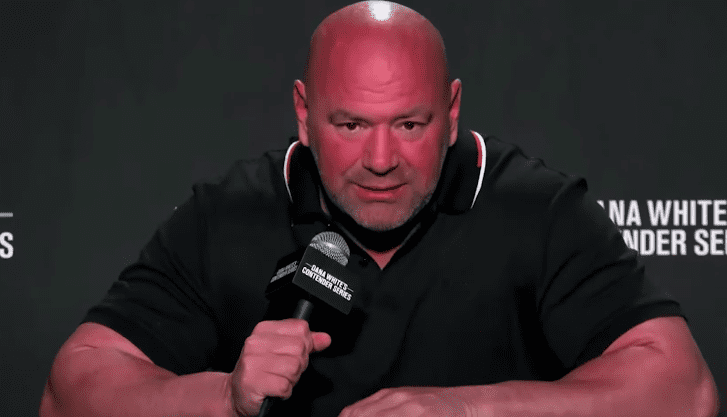 Dana White says that Israeli fighter Oron Kahlon got what he deserved when he was defeated by Afghan rival Javid Basharat in their 'Contender Series' fight in Las Vegas on Tuesday night.
Monday's weigh-in between the two caused friction in the MMA world after Kahlon was overheard referring to Basharat as a 'terrorist' after the Afghan refused a handshake after Kahlon had missed weight for their fight by 3-pounds. The clip, and the slur, went viral shortly thereafter, with several figure within the sport condemning the language.
Basharat, though, had the last laugh after he submitted Kahlon with a choke with less than 60 seconds remaining in the final round, and after dominating him for much of the previous 14 minutes.
But speaking afterwards, White stated that the UFC will never be the type of 'politically correct' arena sometimes seen in other sports and that justice was delivered in the cage — while ignoring what might have happened had Kahlon emerged with the win.
"Are we gonna do anything? It got done tonight," White said of the situation, in an apparent contradiction of the UFC's own Code of Conduct policy. "You know what I mean? It's the beautiful thing about this sport. I say it all the time: This is not a nice sport. This is a very rough sport. We say a lot of mean things to each other, you know, and justice gets served at the end of the day.
"Listen, when you have a situation like that, the best way to solve the problem is you fight, and you fight legally. You get paid to do it, and that's what happened tonight.
"No, not in this business I don't (worry about situations like this)" White said. "If you look, you can add that to the pile of some pretty nasty things that have been said in this sport. And not just this sport — boxing, I'm sure Muay Thai, kickboxing, you name it. Mean things are said. In this insanely politically correct world we're living in, this is one place that is not."
Comments
comments