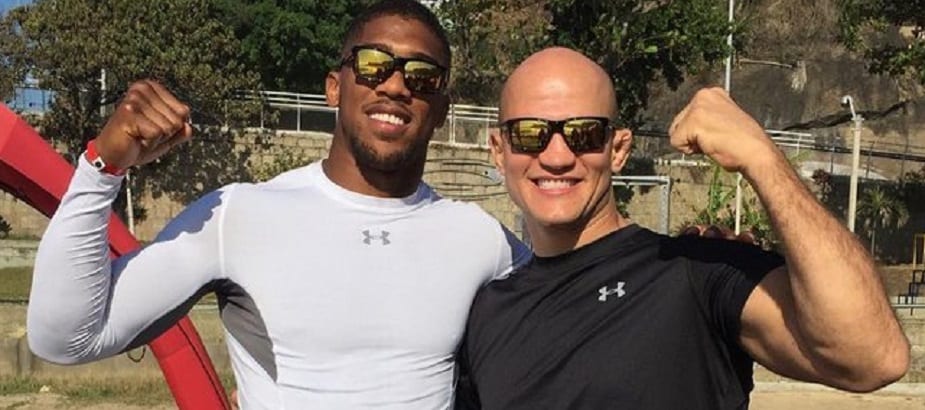 Say what you will about Junior Dos Santos' ambitions in the boxing ring, you can't deny that the man is staying on-trend.
The prospect of crossover bouts between boxers and mixed martial artists has been a hot topic in the last three years since word first filtered out that Conor McGregor and Floyd Mayweather were, in fact, considering fighting each other. Since then the topic has risen on several occasions both in verbal and physical form, with Artem Lobov's unanimous decision win against Paulie Malignaggi the latest such example.
And if it is down to former UFC heavyweight champion Junior Dos Santos, he intends to be next in line.
The Brazilian slugger is set to face fellow knockout machine Francis Ngannou this weekend at UFC on ESPN 3 and Dos Santos says he will parlay a knockout finish in that fight into a clash with WBC champ Deontay Wilder.
"I can knock anyone out in this division and Ngannou is going to be the next guy," Dos Santos said via MMA Fighting. "I even have enough boxing to beat boxing champions.
"It could be Deontay Wilder because everything I see about Deontay, he's a great champion, he knocks everybody out and he doesn't run away from a good match," he said. "I can see many, many holes in his game. Can you imagine I'm not worrying about no takedowns, no kicks, no jiu-jitsu, only boxing? That would be paradise for me."
While these claims should perhaps be taken with a pinch of salt as Wilder still remains undefeated through more than 40 fights and is generally considered to be either the best, or second best, heavyweight on the planet. Still, Dos Santos understands that his best chances at making a bout with Wilder a reality would be for him to once again hold the UFC heavyweight title which currently sits in Daniel Cormier's trophy cabinet.
"Now my biggest goal is to go back, fight for the title in the UFC, take the belt back and then start promoting a fight against one of the boxing champions," Dos Santos explained.
Dos Santos has raised a similar cry before, issuing a similar challenge to Anthony Joshua two years ago.
"I would love to have a boxing match", Dos Santos said in May 2017. "Since I'm going to be the UFC heavyweight champion and there can be only one toughest man on the planet, I would like to fight Anthony Joshua (pictured above). Champion against champion. It would be sensational."
Comments
comments