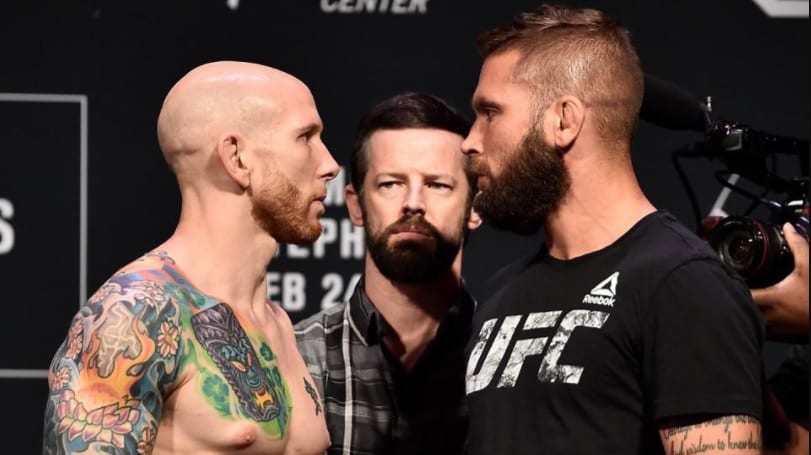 It isn't often that the finish of a mixed martial arts bout is debated as intensely as last weekend's UFC Orlando main event between Jeremy Stephens and Josh Emmett.
After knocking Emmett down 90 seconds into the second round, Stephens landed what appeared to many to be an illegal knee to a downed opponent — a clear violation of the occasionally confusing mixed martial arts ruleset being employed on the evening. Referee Dan Miragliotta called the bout moments later, handing the win — his third in a row — to Stephens.
A debate has ensued since as to the legality of the knee strike and whether it connected after it was initially thrown, or if it grazed Emmett's head in its secondary movement. Either way, the bout was ruled over but Emmett certainly isn't happy with how it came about but isn't blaming his opponent for the lack of clarity at the end of the bout.
Jeremy Stephens gets his monumental win with a HUGE LEFT HOOK KO on Josh Emmett! #UFCOrlando https://t.co/UDMO8X5M9b

— FOX Sports: UFC (@UFCONFOX) February 25, 2018
"I'm not saying [Stephens] is a dirty fighter at all, but after watching it, I just wish I had more of a fair chance," Emmett said on Monday's edition of The MMA Hour, as reported by MMAFighting.
"I wish Dan [Miragliotta] would have done his job. If he would have stopped the fight, I would have gotten a little time to recover or they maybe took a point away from Stephens. It could have been a completely different outcome," Emmett continued.
""I just thought it was a blow. I didn't know what hit me. But it definitely skimmed me after watching it and coming down. And regardless of the new rules or the old rules, I was still a downed opponent, because both knees were down. Even if one hand or two hands were up, it was still an illegal blow."
There have been several situations like this since the implementation of a new ruleset in mixed martial arts a year ago. While intended to provide clarity to situations such as this with a downed opponent, they haven't yet been ratified by all of the athletic commissions in the United States which means that, depending on which state an event is being held in, there could be a different sets of rules in place.
"I would like a rematch. I won the first round, I was winning the second round, doing really well," Emmett continued. "He caught me just perfect, little left hook on the chin. I was composing, getting back up and then I just felt like some of those illegal blows made it a lot worse for me."
Comments
comments