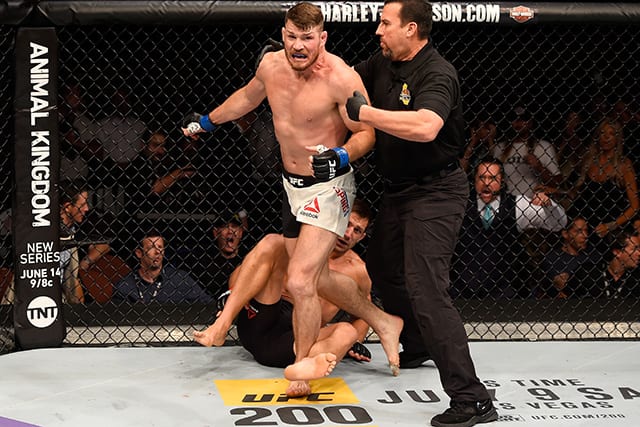 With Father Time knocking on his door, Michael Bisping appears no closer to securing an opponent for his next fight which, by all accounts, will the final bout in his future Hall of Fame career.
Originally next month's UFC event in London was thought to be the ideal setting for the Englishman to ride off into the sunset but that was scuppered by the November knockout he suffered at the hands of Kelvin Gastelum in China — Bisping's second stoppage defeat in the space of three weeks. Wisely, Bisping opted to take a step back and wait for a more opportune moment to call time on his fight career.
Opponents like Rashad Evans, Lyoto Machida and Vitor Belfort have been speculated, with Bisping apparently being keen on the first two but vehemently against the idea of fighting the latter but now, according to comments he made on his Believe You Me podcast (as reported by MMAFighting), he would also be happy to run back what was the single greatest moment of his MMA career — a trilogy bout with Luke Rockhold.
Bisping won the UFC's 185-pound title in a shock upset against Rockhold in the summer of 2016, revenge for a submission defeat to the same fighter two years prior, and with the score currently standing at 1-1 between them Bisping appears eager to settle the score before he walks away from the sport for good.
"If that motherf**ker wants to throw down at 205, yeah, we can entertain that, buddy," Bisping said. "I've got no problem knocking you out again."
Since he defeat to Bisping nearly two years ago Rockhold has competed twice, a win against David Branch and, more recently, a knockout loss to Yoel Romero and it's the evidence from those two performances which gives Bisping confidence that he can repeat the result from their last meeting at UFC 199.
"I exposed Luke Rockhold," Bisping says. "I knocked him out. David Branch nearly knocked him out. Yoel knocked him out. I quite literally took his soul, so if he wants me to do it again, that is one that would stoke the fires so to speak."
Rockhold, for his part, has recently stated that he's contemplating a move to 205-pound for his next bout but the Englishman says that no matter the weight class, he would be there waiting for him.
"I'll fight him at 205, I'll fight him at 185," he said. "I'm not bothered. That's if I'm gonna fight again, if the deal is right. Fortunately now, I'm in a good place.
"I still love fighting. Fighting's what I do, that's provided me this platform and I still feel like I've got at least one more in me. I've got more than that in me but I'm just saying from my business perspective maybe one more makes sense, maybe two more, maybe no more. We'll see what the future holds if the deal is right."
Comments
comments