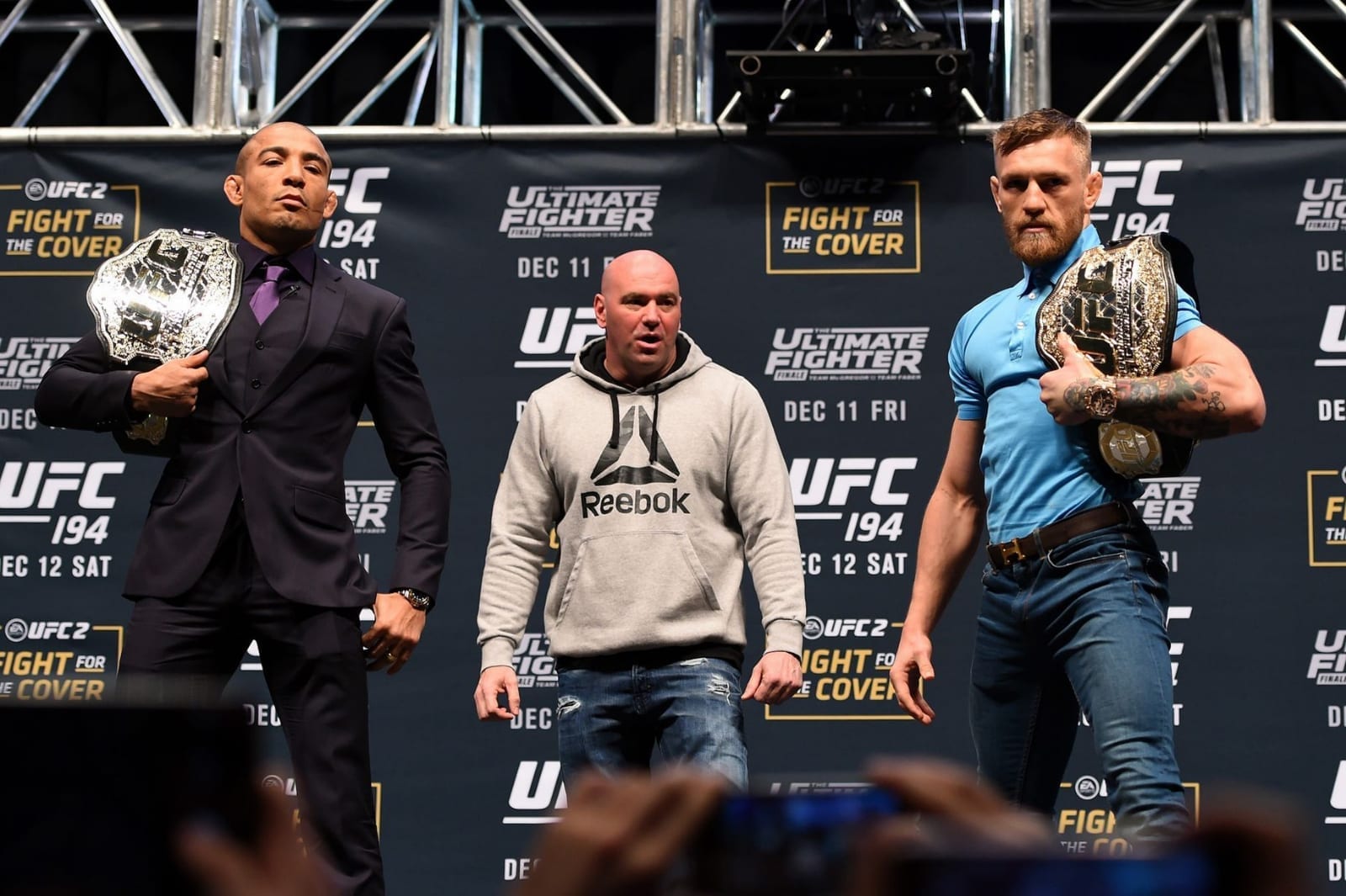 While Jose Aldo has gone on record this week as saying he's no longer interested in talking about Conor McGregor, stating that the possibility of a rematch with the Irishman has gone, his coach Andre Pederneiras isn't convinced.
Aldo's longtime coach spoke yesterday with ESPN.com, and revealed that as he and his student head into UFC 212 this Saturday, they still have their eyes on the bigger picture — and the bigger picture involves the UFC lightweight champion.
According to Pederneiras, when Aldo began speaking last year in regards to retiring from mixed martial arts, the decision stemmed from Aldo's frustration of being unable to get the rematch with McGregor booked, combined with a long time desire to move into boxing.
Now, while a rematch in the UFC currently appears unlikely, McGregor's own move into the world of boxing has Aldo and Pederneiras starting to wonder if there isn't another way to get back in the ring with the man who defeated Aldo.
"When Aldo saw the fight with Conor was not happening, he said, 'OK, now I'm going to end my career in MMA and try to start one in professional boxing.' And if he ever wanted to go back to MMA, he would need to finish his contract with the UFC," Pederneiras said.
"Dana did not really give us permission. He said, 'Maybe. You send me the name of your opponent and maybe we'll accept you boxing in Brazil. But it will depend on what fight you take.' Nobody can start a new career if they're saying, 'We can fight this guy, but not this guy.' Maybe he could fight on the same card as McGregor and Floyd Mayweather — another big name in boxing.
"[Aldo] wants to be a world champion in boxing. He thinks he can do it. He wants to fight Conor again, though. Maybe win the 155-pound championship. If Conor came back, he would need to fight him. He was fighting at 145 pounds and Aldo won the interim title. Conor left and went to 155. If he was the champion at 155, would Conor leave for another division again? Leave the sport? I don't know. If he goes to 170 pounds, Aldo says he will go to fight anybody at 170, to be the next contender for Conor. He just wants to fight Conor and that's it."
Comments
comments