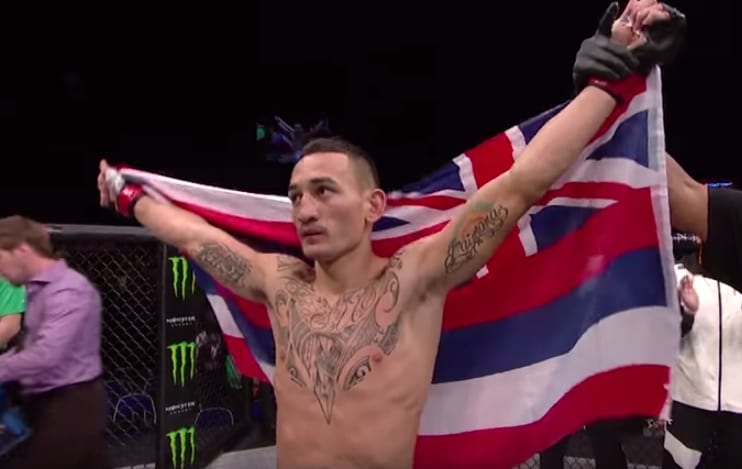 Out of all the opponents Conor McGregor has faced, it appears that the one Straight Blast Gym has the most consistent respect for is Max Holloway, who faced McGregor when the two were in the infant stages of their UFC careers.
That respect continues as Holloway faces into the biggest fight of his career this Saturday at UFC 212, where he faces Jose Aldo for to unify the featherweight titles. As, according to John Kavanagh, he's picking Holloway to walk away from Rio de Janeiro as the undisputed 145-pound champion.
"I've said it since Conor fought him — apart from Conor, Max Holloway is the second-best guy at [featherweight]," Kavanagh said, speaking to The42.com. "I think Holloway will win convincingly. There are a lot of similarities in both of their styles, in terms of being busy strikers who are used to guys trying to take them down.
"Max is maybe a little bit more dangerous when it comes to submissions. He'll go for guillotines and stuff on takedowns, whereas Aldo is almost exclusively about defending the takedown. I think Max has grown a lot too. Even since Conor fought him he has improved."
While Aldo remains one of the best 145-pounders to have ever graced the sport, Kavanagh believes that Holloway's style will prove to be a unique threat to the Brazilian that Aldo will be unable to overcome.
"Aldo tends to do better against short, stocky wrestlers," Kavanagh said. "He seems to have the perfect game for that. I don't know if there's somebody of that style who could possibly beat him. He's almost perfect for that style. But here he is again, in against somebody he very rarely faces: a taller, striking-based opponent. We might see Aldo having to struggle and look for takedowns. I actually think that will be Aldo's approach, that he'll try to grapple.
"But I think Holloway will either defend them, make him uncomfortable with submission attempts, or else he'll be able to keep it on the feet and win a decision. I think that's how it'll play out. Holloway by decision."
Comments
comments