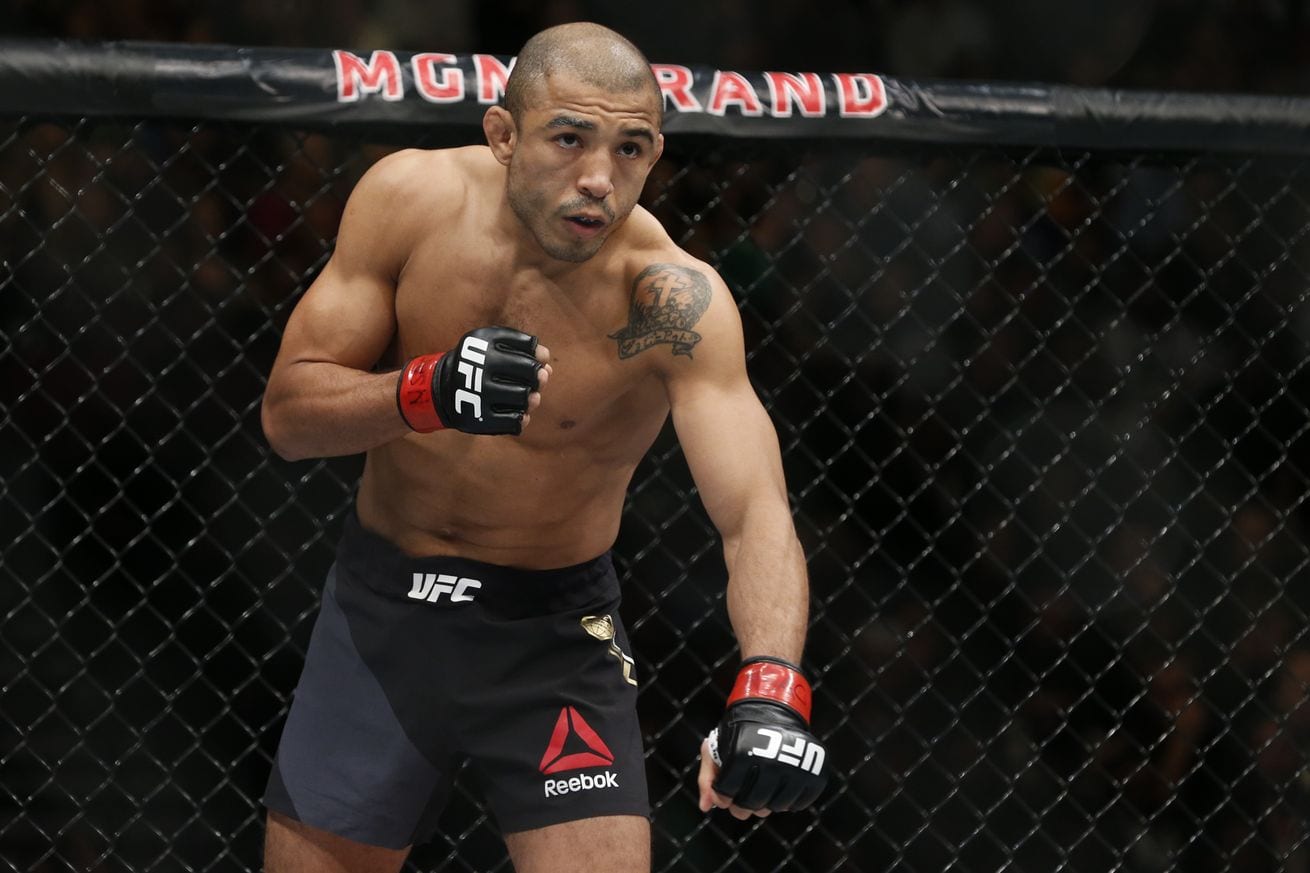 After a run of three straight defeats, Brazilian fighting icon Jose Aldo says he was close to calling time on his legendary career — but then he starting practicing his boxing with his country's navy, and everything changed. 
Three defeats on the spin to Alexander Volkanovski, Marlon Moraes and Petr Yan left the former undisputed featherweight champion at a crossroads in his career. His legendary status was secured, so why bother keep taking shots to the face — especially if the returns were diminishing?
But the competitive fire burns red hot inside the Brazilian and it was rekindled, he says, by renewing his love for boxing in the company of the Brazilian Navy.
"I was already thinking about retiring really, I had that in mind," said Aldo to MMA Fighting's Trocação Franca podcast.
"But after the Petr [Yan] fight, the pandemic and et cetera … those [Brazilian Navy] kids lit a fire inside me, brother. I have so much will to fight these days. I've been with the Navy for almost two years now, since the pandemic. Man, I'm feeling like a boy again, learning every day, changing my fighting style. That renewed me to fight again, lit the fire I needed."
View this post on Instagram
Aldo returns to action this weekend for yet another UFC main event, this time against Rob Font and a win will move him closer to yet another world title opportunity at bantamweight, having already had a storied history as the featherweight king of both the WEC and UFC.
"Rob is one more step, and defeating him on Dec. 4, we'll be a bit closer to the belt," Aldo added. "I don't know how it's going to be given Sterling's injury, that could be a problem. I believe he'll fight Petr, I don't know if [T.J.] Dillashaw will wait that long, so maybe a fight between Dillashaw and I could [determine] the next contender."
Whether or not a 135-pound title shot materialises will remain to be seen but a win against Font would make it three in a row for the 35-year-old Aldo — and a fight with fellow veteran T.J. Dillashaw, he says, would pique his interest.
"It might happen," he said. "The fact [Aljamain] Sterling is injured and we don't know when he's coming back, that [Dillashaw fight] could indeed happen in the future. Dillashaw and I, I don't know if right now or in the near future, we want this fight. It's a great fight for both of us, the UFC and the fans, so we'd all agree. I don't know if it could be on the same card [of Sterling-Yan]. If it is, I'll be ready. My history is rich, so is his, and we need to make this fight."
First comes Font but after that, who knows?
"I've always chased legacy," Aldo explained. "I've never thought too much about the financial side [of MMA]. I always wanted to leave a huge legacy and make history in the UFC. It doesn't cross my head to, even when I end my career tomorrow… I want to be under contract with the UFC because I don't want to fight anywhere else but the UFC.
"My legacy will be exquisite, that's what I want, and that's what I'm coming for. I'm ambitious. I want to fight for this belt and win it. My history will be even richer with that."
Comments
comments