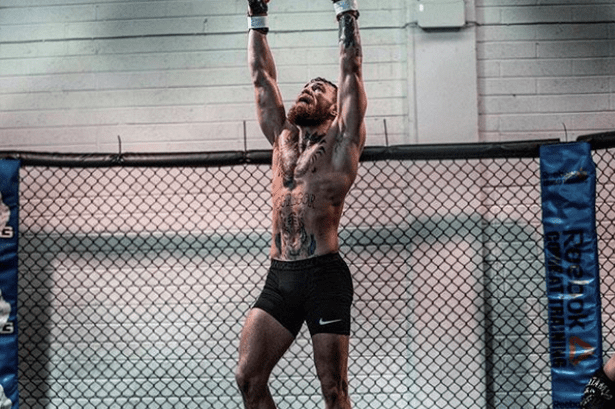 There will be a McGregor show in town sometime soon.
In a wide-ranging Twitter Q&A with fans over the weekend, the Dubliner answered a slew of questions as to his immediate future and said that he expects to be cleared to return to sparring in April after which he says, "a return will be imminent".
"I will be full mixed martial arts sparring by April," he wrote online. "Easily! By then a return will be imminent. But I must be patient. I will beat this!"
McGregor fractured the tibia and fibula just above the ankle on his left leg during his most recent fight at UFC 264 in July and has been providing updates as to his recovery since. He had previously stated that he suffered an injury to his left leg in preparation for the fight, and that he had mentally readied himself for a scenario in which he might suffer an injury.
In additional tweets, McGregor also indicated his excitement at using the "steel bar in my leg" in upcoming fights.
Check out a selection of the Q&A session below:
I cannot wait to wrap this steel bar in my leg across the neck of a future opponent! I am counting down by the seconds until I get to launch this weapon. https://t.co/P9d7S6CBeY

— Conor McGregor (@TheNotoriousMMA) November 27, 2021
There is always something you can work on! Find it and get to work! https://t.co/cUuvRmWMEn

— Conor McGregor (@TheNotoriousMMA) November 27, 2021
I celebrate this everyday! What doesn't kill you makes you stronger! It's stronger I am getting! https://t.co/4Aa4XBtII7

— Conor McGregor (@TheNotoriousMMA) November 27, 2021
The famed lead hand "Crumlin Russian"
My boxing club taught me this shot! https://t.co/0osWVV4SUV

— Conor McGregor (@TheNotoriousMMA) November 27, 2021
The fibula is fully healed. The medial side of the tibia is developing nice callous also. It is just patience now for it to form down through the bone to the lateral side of the tibia where the larger break occurred. It's getting there. Patience will win this race for me! https://t.co/V1KPYGuEPE

— Conor McGregor (@TheNotoriousMMA) November 27, 2021
As soon as I am cleared to spar I will be straight back in. https://t.co/lE95a9oBGF

— Conor McGregor (@TheNotoriousMMA) November 27, 2021
–
Comments
comments