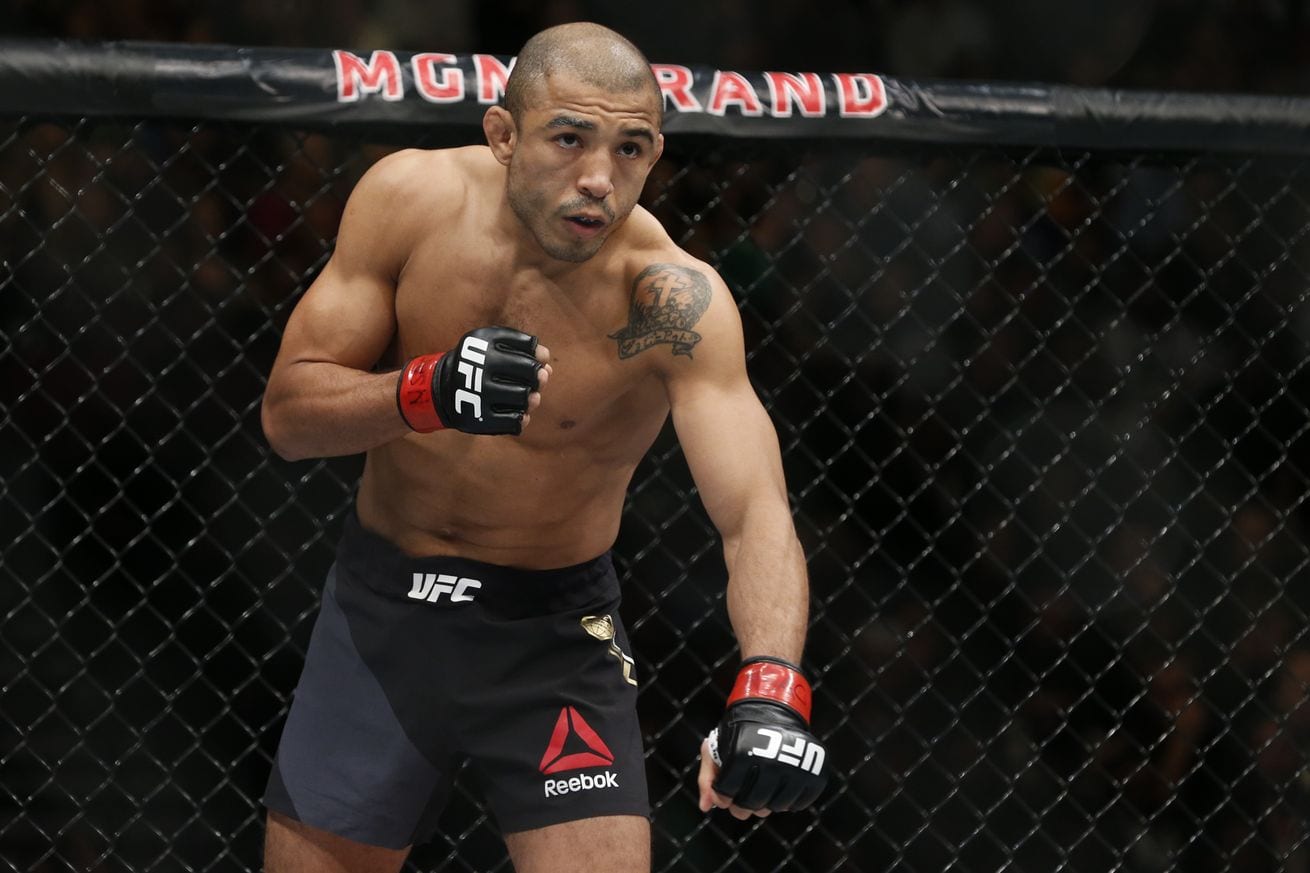 Not once in Jose Aldo's 37-fight career did the former UFC featherweight champion miss weight — and he wasn't impressed by Paulo Costa's inability to register his contracted weight on the scales in advance of his recent fight with Marvin Vettori. 
Costa hasn't exactly covered himself in glory in his two most recent outings. He was unsuccessful in his bid to prize the middleweight title from Israel Adesanya a little more than a year ago, later blaming his performance on the bottle of red wine he says he drank on the eve of the fight — and then in his next fight against fellow top contender Vettori, the bout was moved to a light heavyweight contest after Costa admitted he would be unable to make weight after showing up on fight week some 25-pounds above the weight limit. He would lost the fight by unanimous decision.
And Aldo didn't like what he saw.
"Dede' [coach Andre Pederneiras] always told us that losing and winning is part of the fight, but our obligation was to make weight," Aldo explained via MMA Fighting.
View this post on Instagram
"If you don't make weight, it's lack of respect towards your opponent, the promotion, and the fans that are waiting for that. That's how I was raised, that's what made me the athlete I am today. To me, it was disrespectful. Even if he's Brazilian, if could be a friend of mine or anything like that, if you ask me, I'd still say the same thing.
"The opponent goes through like two or three months preparing for a fight in one weight [class], goes on a diet, gets to fight week and starts hearing rumblings that this guy won't make weight or whatever and starts losing focus. You begin to think not only about your weight, but if the actual fight is going to happen, if the guy will make weight, if he's going up or going down.
"Even if there's a fine, even if he gives up, I don't know, 50 percent of his contact to the opponent, it still disturbs him. It disturbs [the fighter], disturbs the fans that are waiting, disturbs the journalists, disturbs everybody. You go to sleep with one situation and wake up in the morning and it has changed again, the fight is cancelled and then it's confirmed again."
The second successive loss on his record has left Costa in an unusual position. He has just one fight remaining on his deal and has spoken of seeking improved terms on his next — but Aldo says that he hasn't put himself in a good bargaining position.
"If I were the promoter, I'd be very pissed," Aldo continued. "There's no way you come talk to me tomorrow and ask for a pay raise if you can't even fulfil your contract, right? I see that a lot these days. I see young fighters in the UFC that sometimes don't fulfil what's in their deals. If you sign an eight-fight contract making X [amount of money], man, you'll make X during those eight fights, you can't, after three fights… Or fight for the belt, get a title shot, and then you can say, 'I deserve to make more because I'm doing this, this and this,' and show the numbers.
"First, [he has to] work, understand where he is, to know what he wants in the future," Aldo said. "That fight, if he had beat [Israel] Adesanya, then he could have gotten to the UFC and said, 'I want a contract, a champion's contract,' and put the number on the table. But the moment you only do a few fights, even if you're winning and knocking [people] out, that doesn't explain anything. You have to go there, put on good fights and get to the title shot and then, winning [the belt], you sit down with the UFC and say, 'Dana, I deserve the contract, I deserves this number, because I've showed you.' You're giving something back to the company.
Comments
comments