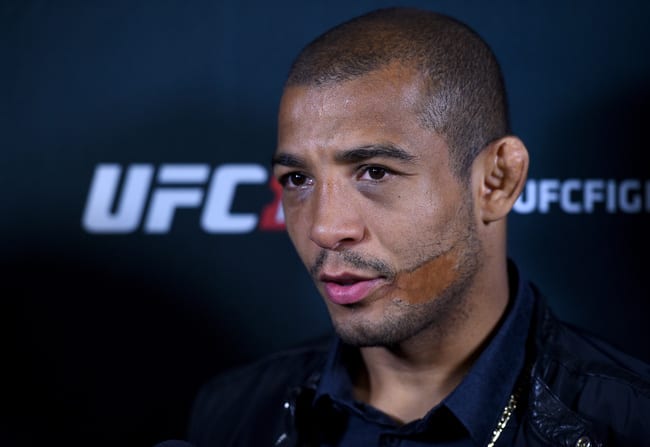 Former UFC featherweight champion José Aldo has taken to social media to campaign to fill in for the injured Frankie Edgar in the main event of UFC 218 next month.
Edgar has been forced to withdraw from the title bout against Max Holloway on December 2nd after suffering an undisclosed injury which he says will sideline him for six weeks or so, leaving a gaping hole atop the UFC 218 card which José Aldo says he would be happy to fill.
Aldo, one of the most successful featherweights in the sport's history, lost his title to Holloway via third round knockout in June and is scheduled to face Ricardo Lamas on December 16th on the Robbie Lawler vs Rafael Dos Anjos card in Winnipeg.
Hey @BlessedMMA,I want my title back. I deserve the rematch. Let's make this happen @ufc

— Jose Aldo Junior (@josealdojunior) November 9, 2017
Edgar's misfortune has also caught Cub Swanson's attention. Swanson is in the midst of a four fight winning streak and has never received a UFC title shot since making his debut with the organisation in 2011. He reacted to the news of Edgar's injury by posting a meme from the television show Parks & Recreation.
— Cub Swanson (@CubSwanson) November 8, 2017
Like Aldo, Swanson has a bout scheduled in the coming weeks with Brian Ortega at UFC Fight Night 123 in Fresno, California and would savour a rematch with Holloway who defeated him in their first meeting in April 2015.
Edgar has stated that his injury will keep him sidelined for a little over six weeks, so another option would be to rebook the bout for a few weeks down the line — though that would leave UFC 218 lacking a featured headliner.
All in a day's work for the UFC matchmakers…
Comments
comments