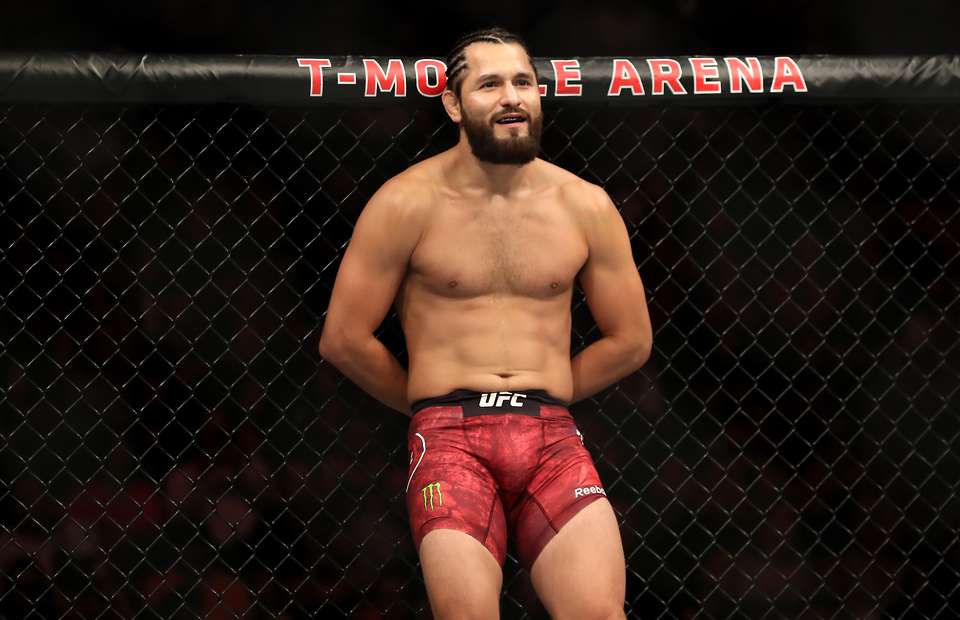 UFC welterweight champion Kamaru Usman has a plan to save the main event of next month's UFC 249 in, well, no one knows where just yet. 
Travel restrictions recently announced in Russia designed to help slow the spread of Covid-19 has meant that Khabib Nurmagomedov is almost certainly out of the originally scheduled headliner against Tony Ferguson and while the likes of Justin Gaethje and Dustin Poirier have been linked with stepping in to face 'El Cucuy', 170-pound kingpin Usman has a different idea — fast-track his next title defence against Jorge Masvidal and let's get this thing done already.
Usman had been expected to defend his championship against 'Gamebred' as one of the centrepieces of this summer's International Fight Week in Las Vegas but with the global sporting calendar having been decimated by the spread of the coronavirus, it seem the champion is ready and wants to do this in just a few weeks' time.
"Last Tuesday I knew that Khabib was out of the country," Usman, who shares a management team with Nurmagomedov, said on an Instagram Live video on Monday. "I texted Dana directly. I said, 'Dana, I understand situations are going on. But guess what? I haven't really been training like that, but I'm willing to come in and I'm willing to save that event.' I'm willing to save it because at home people don't have anything to watch. They need some entertainment. People want to see this fight. People want to see me and fake-ass journeyman Masvidal. People want to see the fight? Let's do it.
Start Cutting Weight MuthaFucka!!!

— KAMARU USMAN (@USMAN84kg) March 30, 2020
"It's not going to happen to be honest," Usman added. "He has turned down the fight. He has turned it down. He said, 'No, I'm not ready to fight. I've been smoking and drinking and I'm fat and I'm not ready to take the fight.' That's what he said. He's been drinking that liquor that no one can pronounce the name of."
However, Masvidal says otherwise. Responding on Twitter, he suggested that it was Usman's manager Ali Abdelaziz — who is known to take over some of his fighters' social media account — who was behind the challenge and that Usman has already declined the possibility of a fight.
Shut up Ali. Writing tweets for your client. The only thing I'm cutting off is your boys head. Wouldn't take it on 7 weeks notice he's not taking it on 2 weeks notice. Clout chasing just like the clout chasing fragile dude.

— Jorge Masvidal UFC (@GamebredFighter) March 30, 2020
Masvidal's manager, Abraham Kawa, explained the situation as he sees it on another Instagram Live video.
"I just want everybody to understand one thing: If there's one thing you know about Jorge, he doesn't have to lie," he said. "He has no reason for him to lie. He's got no issues. We have accepted the Usman fight twice now. Two times. Once for NYC (at UFC 244) – and we all know how that ended up. Usman said no. He didn't want to make that fight happen. He wanted I don't know what. (He had) some injury or no injury. I don't know, man. It's weird with him and his stuff.
"Now, we accepted again and he's saying we turned it down. That's a damn lie. We got the phone call. We were asked. We knew this was coming. We said, 'Absolutely. Let's go.' We knew how this was going to go. Did we think Usman would take the fight? Well, let's see. He didn't take it on seven weeks' notice last time. What makes any of you guys think he's going to take it on two weeks' notice this time? It wasn't going to happen. You guys can say what you want. I know, on our end, we accepted. Whatever happened after that, I can't tell you, man. I just know this is two times we've said yes to Usman and two times we don't have an answer."
As of now, we are no clearer to knowing the identity of the two fighters who will comprise the UFC 249 main event in three weeks time. Nor do we know the venue, or indeed the country, in which it will take place. However, the UFC have very much adopted a policy of 'the show must go on' — and you'd have to expect that we'll have clarity on what exactly that show will look like sooner rather than later.
Comments
comments