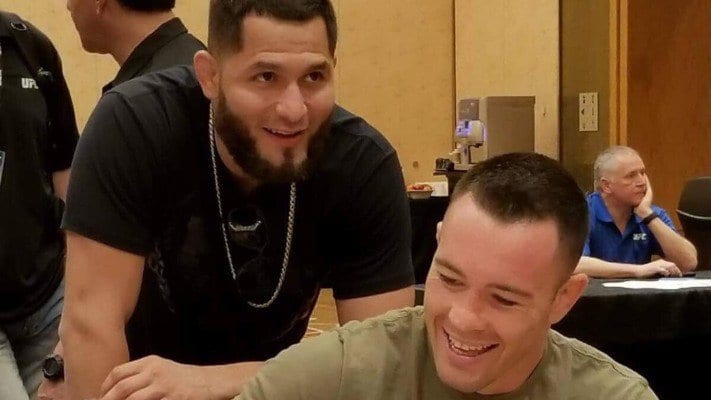 Jorge Masvidal and Colby Covington agree on one thing: they aren't tight any more.
For the past few years, both men have acknowledged their history as training partners and friends, but as they've risen through the welterweight ranks, something changed. While the pair might have a difference of opinions as to why they are no longer cool, they both accept the fact that any loyalty and friendship is behind them.
Indeed, so bad have things deteriorated, Masvidal says Covington went as far as to get the UFC president involved last month at UFC 241 in order to keep them separated in the crowd.
"All I know is that he knows what fucking gym I'm at, and when I'm fucking there," Masvidal said, speaking on the Ariel Helwani MMA Show. "Actually maybe he doesn't know. So I could be at the gym tomorrow or Thursday. Whenever you want, Colby, I could be at the fucking gym, and whatever incidents you're having, we can talk about it like men. He had to tell Dana White that I was trying to assault him. Dana White came over to me like I'm in kindergarden talking about, 'Don't give out no three piece and soda'. I go, 'What the fuck are you talking about Dana?' and he goes, 'No Colby's telling me you're trying to assault him, you can't do that'.
"I'm like this guy's such a bitch. I told him let's talk like men. Why are you online doing all this shit? For a like? For a follow off a fan? That's how low your soul is? Because two weeks ago he's the one saying I'm his best friend. I haven't said none of that shit in a while, because this motherfucker did some shit I didn't like to somebody I adore, and that's my coach. Since then we haven't been cool.
"This dude needs to slow down because he knows better than most who the fuck I am. I'll be at the gym, Colby, if you're hearing this because you will. Because he acts like he's not sensitive, even though he's the most sensitive dude I've ever met. He cries when he reads comments. So, Colby, if you're hearing this or when you read this, I'll be at the gym … Let me know."
–
Comments
comments