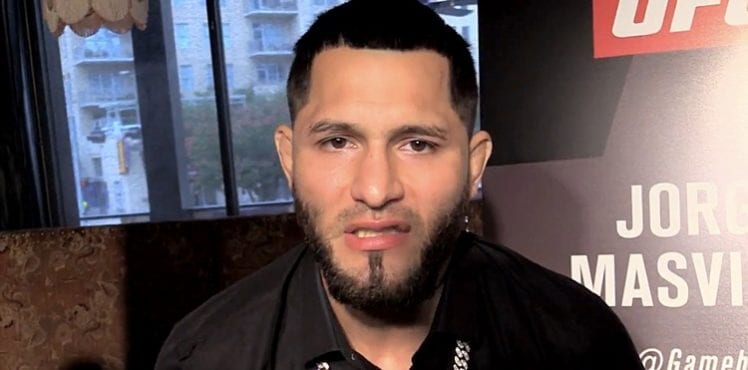 It's starting to seem Jorge Masvidal doesn't just dislike Michael Bisping in the usual MMA rivalry way, but from a far more serious place.
The pair have gone publicly back and forth over the past year or so, with increasingly harsher words coming from Masivdal. In addition to that, on multiple occasions now, the duo have crossed paths, something that always seems to end with the pair needing to be separated.
Such was the case at UFC Shanghai, it seems.
Both Bisping and Masvidal were in attendance at the event last November (Bisping to compete, Masvidal to star as a guest fighter). According to Masvidal, after Bisping had lost in the main event, the two came across each other in a lobby and — despite being in front of a number of fans — it didn't go well.
"After he got knocked out, I didn't want to even look at the guy. I'm not the type of dude who kicks somebody when they're down," Masvidal said, speaking on MMAFighting's The MMA Hour. "Whatever, bro, we'll handle our problems later. Even though you're a fucking racist piece of shit, we'll handle our problems later. And I'm in the lobby, and the lobby is flooded with Asian fans and I'm taking pictures, doing my job, what I'm supposed to do.
UFC welterweight @GamebredFighter details incident with Michael Bisping at UFC Shanghai, says he was "pretty close" to breaking Bisping's face. Watch #TheMMAHour live: https://t.co/ZwWLlHwDQO pic.twitter.com/tyjCZD1Z01

— MMAFighting.com (@MMAFighting) May 7, 2018
"I see him already coming from the corner, so I just give him my back and I'm like, 'Man, I don't even want to see this dude.' I'm hoping he doesn't see me, but I'm not going to just storm off from the fans and be like, 'No, I'm not taking pictures because Bisping's coming.' So as I'm taking pictures, he's crossing me by and he gets maybe three feet from me, he sticks out the middle finger and he screams as loud as he can like a little girl, 'Fuck you! Fuck you! You're a disgrace to the sport! Fuck you!'
"So I just fucking lost my mind and I went after him, and a couple UFC employees got there, but there wasn't that many people to really hold us back. They were mainly holding him back. And his team knew that he was out of line, so they were holding him, and I had maybe like two people on me so I could shake these people and I was trying to. Like always, he cowered out, just like he did in New York, got inside the elevator talking numerous shit."
As has been the case throughout their feud, Bisping played down the incident.
I love how such a tiny insignificant incident to me, is the biggest thing to happen to this punk. He can't stop talking about it, plus it's total bloody lies. Get over it buddy. Go bore someone else. https://t.co/3kyqi2B8dr

— michael (@bisping) May 7, 2018
—
Comments
comments