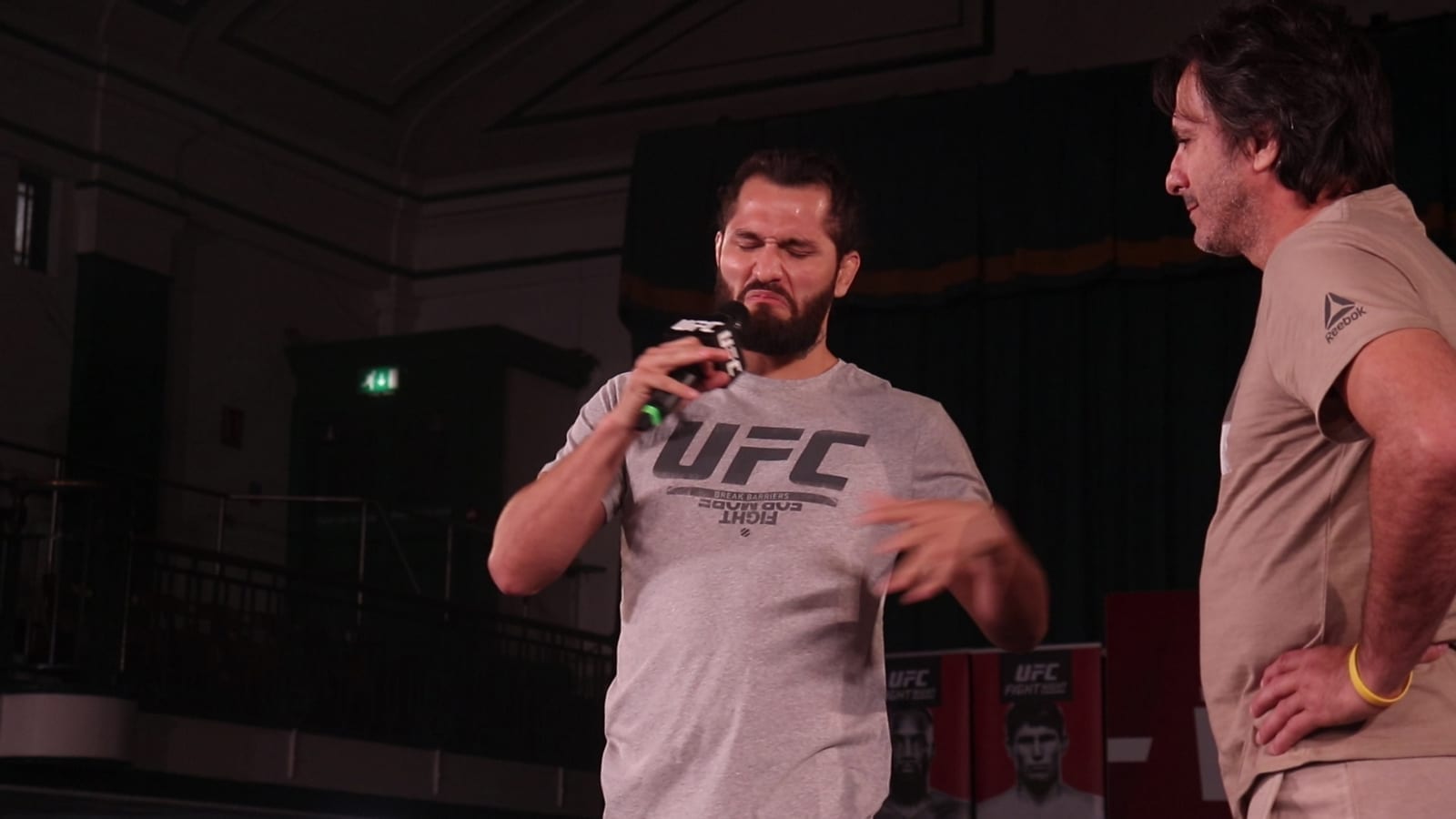 Earlier this year, Jorge Masvidal approached Leon Edwards backstage at UFC London and hit him with a few punches before the scuffle was separated.
Since then, Edwards has wanted nothing more than an opportunity to get his own back on the American, ideally inside the Octagon as both fly up the 170 pound rankings towards a title shot. Now, with both coming off their most impressive career wins, and with Colby Covington the current number one contender, it seems it's time for the two to settle the score.
Earlier this evening, Masvidal was in attendance backstage at UFC Uruguay, and certainly he appeared to be on board with the idea.
"You are a scrub, Leon, and you fucking know it," Masvidal said (H/T MMAFighting.com). "The fight will take place when the fuck I say so. Sit there and eat that fucking words. I'm gonna break that guy's face, man."
Masvidal is currently riding the biggest wave of momentum he's ever experienced, with his stunning five second knockout win over Ben Askren going viral last month. According to Edwards, the UFC had offered Masvidal the fight, only for the contest to be turned down. Masvidal's manager quickly refuted those allegations, as did Masvidal tonight.
"The UFC hasn't put a contract in front of my face with Leon's anything," Masvidal said. "Because they know we're not about petty shit. I'm only looking up. When they first offered me the fight over there in England, I said who's the best guy I could get my hands on, they said Till, and I said that's it. Let's do it. And what did I do? I got on a fucking plane, went over there and gave it all I had. I fight. I like to fight.
"Leon, then was shit, still is shit, in my opinion. I'm gonna kick his ass. It's not going to be on his terms or whenever the fuck he wants it. It'll always be on mine, And that's what bothers him so much inside, he's gotta look at this interview or people are gonna call him and tell him. You're a fucking nobody. I run the show, you listen to me. When I say I'm gonna your fucking ass, I'm gonna kick your fucking ass. I gotta get paid now. Like I said, 16 years I've been chasing the dream of getting the belt. You think I'm gonna let some fucking bug like this guy even slightly throw me off my road, my road, my destiny towards the belt?
"I'm gonna get the belt and I'm gonna eliminate him off the face off the Earth. I'm gonna wipe the floor with that guy. It's gonna happen, I swear to you it's gonna happen, just not on his terms."
So, safe to say Masvidal's confident?
"There's not one bone in my body that doesn't agree with what I'm saying," Masvidal said. "I'm gonna murder that guy when we fight."
Comments
comments