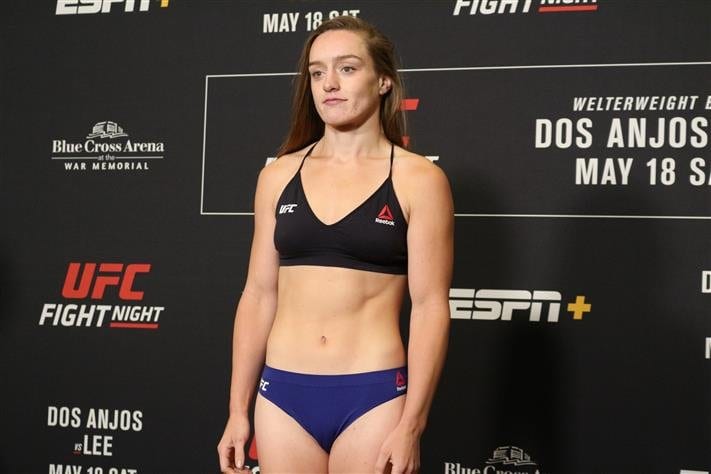 A few times now, when Aspen Ladd has hit the scales for an official weigh-ins, it's made uncomfortable viewing.
Ahead of her fights at UFC 229 and, most recently UFC on ESPN+13, Ladd has shuffled to the scale shivering and whimpering, drawing criticism from media and fans. Now it seems commissions are starting to notice.
Following her appearance in Sacramento, the California State Athletic Commission has decided to suspend Ladd's license to compete at bantamweight (135-pounds). MMAJunkie first reported the news.
Ladd weighed in on target, but a day later came to fight night at 159-pounds — around an 18 precent increase. The commission's regulations dictate that the CSAC can recommend a fighter move up to a higher weight class, or demand it, should a fighter weigh more than 10 percent higher than the official weight on fight night.
According to CSAC director Andy Foster, Ladd's scheduled fight with Yana Kunitskaya in December won't necessarily be affected, but the CSAC do require extensive medical documentation that she can compete at 135-pounds safely before he removes a note regarding the divisional suspension on her administrative file. Should that documentation not emerge, that note is expected to be followed by other commissions, and Ladd could be forced to move to 145-pounds for future contests.
Comments
comments