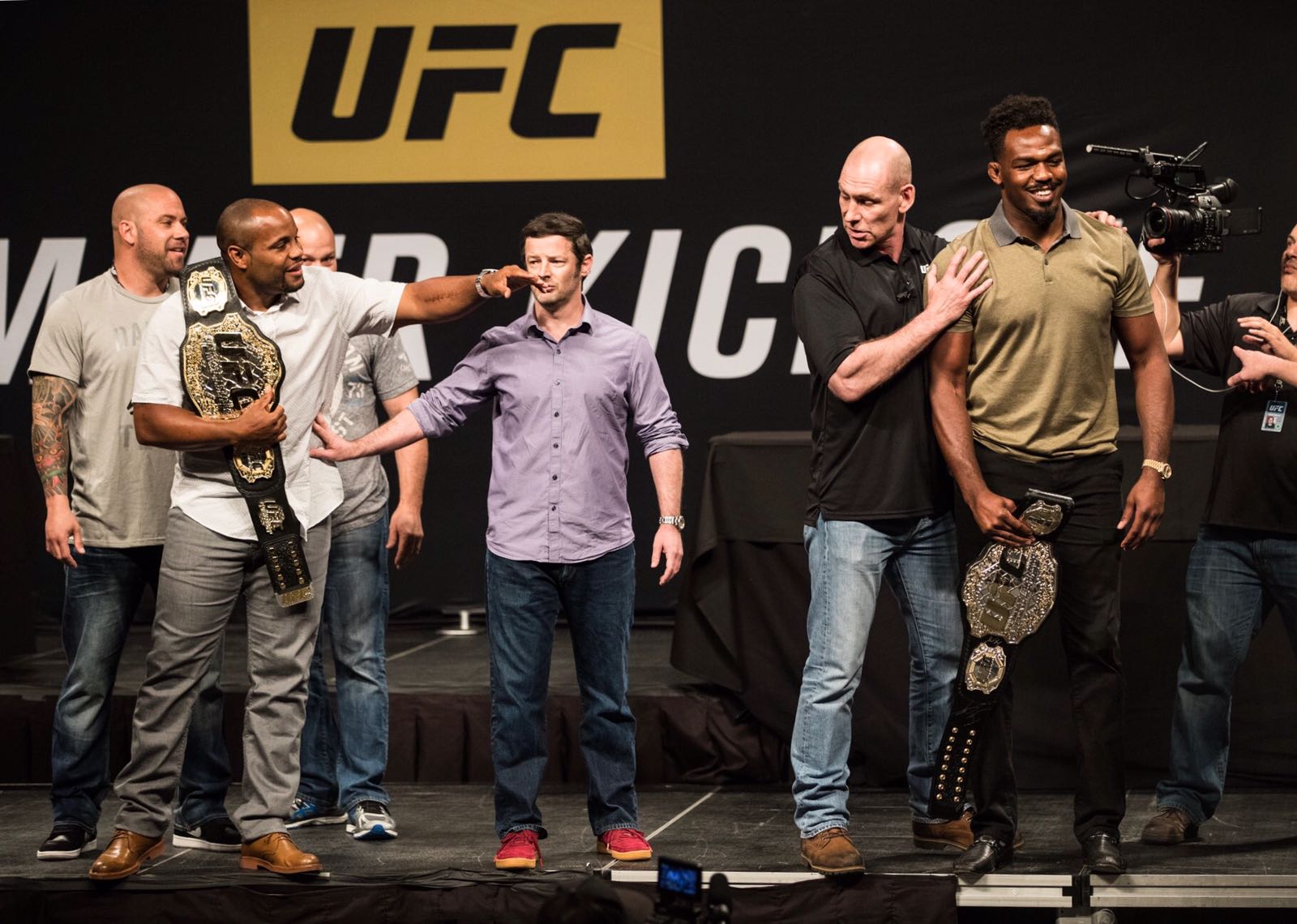 The rivalry has not gone anywhere, and it has not relaxed.
At today's UFC Summer Kickoff press conference in Dallas, it was officially announced that Jon Jones and Daniel Cormier would meet each other for the second time at UFC 214. And, they marked the announcement with their trademark back and forth.
Before the conference even started, footage emerged of the two backstage arguing, before Cormier threw a water bottle at Jones from close range.
@dc_mma said this Real Nigga shit 😂😂 pic.twitter.com/sHnp4DApaN

— Kevin Lee (@MoTownPhenom) May 12, 2017
Then, once on stage, the two shot their usual barbs at the other, each making more pointed accusations as time went on. For instance, does Jones consider Cormier to be a legitimate champion?
"Fuck no. He never beat me," Jones said. "Its an imaginary belt … until he beats me that belt over there is a piece of shit."
In response, Cormier repeatedly labelled Jones a bitch, referencing their backstage altercation before questioning whether or not Jones would even be in attendance at UFC 214.
"I'm sitting here, and like, I see him. I see him, he's over there," Cormier said. "But is he really going to be in Anaheim? Is he really going to the fight? Is this guy gonna mess this up again by doing steroids or snorting cocaine or sandblasting prostitutes?
"What's this guy gonna do to mess this up this time?"
Jones' response?
"I beat you after a weekend of cocaine. I had two great weekends. Back to back weekends. Cocaine one, your ass the next. It was great. That was a month for the ages."
UFC 214 takes place July 29 in Anaheim, California.
—
Comments
comments