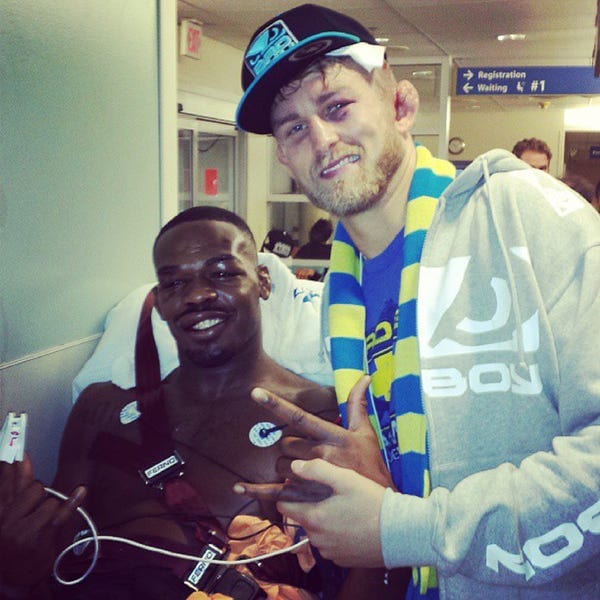 The five-round epic between Jon Jones and Alexander Gustafsson is being entered into the UFC Hall of Fame.
The pair met on September 21, 2013, where Gustafsson entered the Octagon as a sizable underdog who wasn't given much chance for success by the majority of observers.
Instead, the Swede gave Jones arguably his toughest test to date, with Gustafsson having success on the feet and in the grappling throughout the early rounds.
Then, as Jones appeared to be on the cusp of losing his coveted light heavyweight title, the 205-pound king showed everyone his championship heart, fighting back and rocking Gustafsson multiple times en route to the final bell.
Jones was awarded the victory via unanimous decision, with the three judges scoring the bout 48–47, 48–47, and 49–46.
"Going into the first Jones vs. Gustafsson fight, fans and media didn't care about the fight, because they didn't believe Gustafsson deserved a title shot, and this thing ended up being the greatest light heavyweight title fight in UFC history," UFC President Dana White said via a press release. "To be there and watch it live was amazing. It was an incredible fight and both athletes gave everything they had for all five rounds. This fight was such a classic it was named the 2013 Fight of the Year and will always be considered one of the greatest fights in combat sports history.
"This fight showed what a true champion Jon Jones was, as this was the first time he was taken into deep waters and truly tested. This fight also put Gustafsson on the map and showed his true potential. Congratulations to Jon Jones and Alexander Gustafsson on being inducted into the UFC Hall of Fame 'Fight Wing' for such an epic fight."
Te 2020 UFC Hall of Fame Induction Ceremony takes place on Thursday, July 9,
Comments
comments