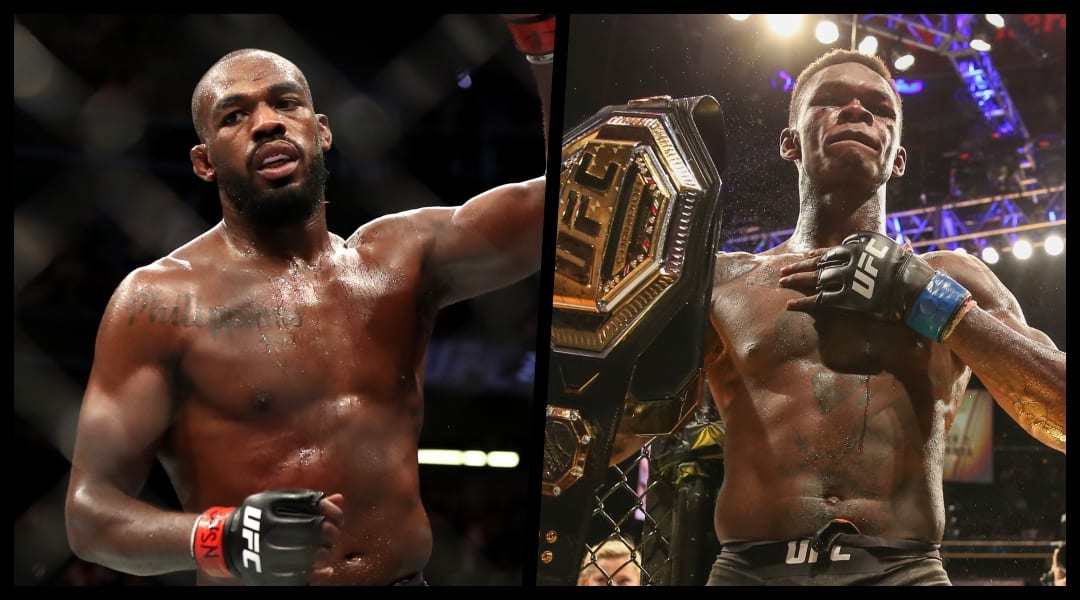 Jon Jones says he has no interest in the upcoming title fight between Israel Adesanya and Jan Blachowicz.
Adesanya is moving up to the light heavyweight division to fight for the 205-pound belt just months after Jones announced he would be relinquishing the strap to move up to heavyweight. But while Adesanya maintains he has an interest in meeting rival Jones in the Octagon, Jones himself continues to share his opinion that Adesanya is too scared to fight him.
He also says he's uninterested in following Adesanya's career any longer, and will go ahead with his long-awaited move to heavyweight.
"There's not a man on this planet that tells me what to do," Jones wrote on his social media. "I march to the beat of my own drum.. there's no red panty night for Izzy without me, I may just keep him broke … I'm glad you guys can see the Fuckery, there's nothing bigger for me than the heavyweight championship. Done playing little games.
"You guys can believe [he'll fight me at heavyweight] if you want to. He was too afraid to fight me at light heavyweight, now you actually believe he'll meet me to HW. Love how you guys eat that silly shit up, keep buying those wolf tickets."
Yeah just how he envisioned it, the arena he wanted and everything. 😂 There's not a man on this planet that tells me what to do. I march to the beat of my own drum.. there's no red panty night for Izzy without me, I may just keep him broke https://t.co/U2SVJ4x7a8

— BONY (@JonnyBones) November 17, 2020
I'm glad you guys can see the Fuckery, there's nothing bigger for me than the heavyweight championship. Done playing little games https://t.co/yy6Rp0bwnC

— BONY (@JonnyBones) November 17, 2020
You guys can believe that shit if you want to. He was too afraid to fight me at light heavyweight, now you actually believe he'll meet me to HW. Love how you guys eat that silly shit up, keep buying those wolf tickets https://t.co/6esUBIfC00

— BONY (@JonnyBones) November 17, 2020
Truly don't care man, nothing is bigger for me than heavyweight gold. https://t.co/fRNFTF7t3E

— BONY (@JonnyBones) November 17, 2020
But instead he made excuses until I left the division. Straight chickenshit https://t.co/i2ECxDip3v

— BONY (@JonnyBones) November 17, 2020
–
Comments
comments