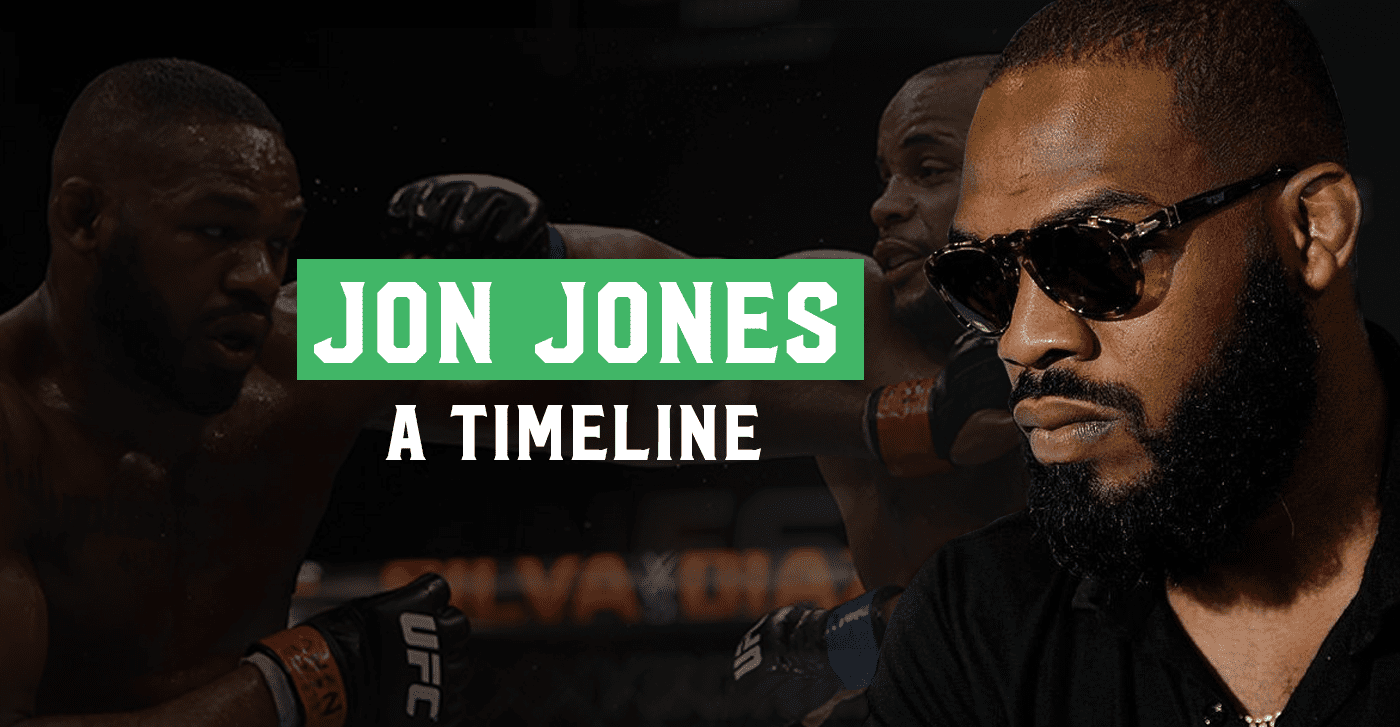 Over the last eight years, the Jon Jones story has been one of equal inspiration and frustration. 
Considered by many to be the greatest talent ever seen inside the UFC Octagon, Jones has repeatedly and consistently been involved in controversy after controversy, each seeming to damage his legacy more than the last. For as much damage as Jones has dealt inside the cage, he's dealt as much to his image outside of it.
With Jones' set to be handed his latest punishment for the third failed drug test of his career (and the second relating to performance enhancers) today in California, it's worth a look back at some of the more unpleasant headlines Jones has been the subject of over the years.
March, 2011 – Jon Jones wins the UFC light heavyweight title at the age of 23 at UFC 128 after dismantling MMA legend Mauricio 'Shogun' Rua. On the day of the contest, Jones made headlines after tackling a thief on the street. The victory made Jones the youngest champion in UFC history.
May, 2012 – Jones is involved in the first high profile vehicle incident of his career when he crashed his Bentley into a traffic pole after partying. He had two women in the car, and Jones was taken into custody after being unwilling to take a sobriety test. He was given a $1,000 fine and his drivers license was suspended for six months.
August, 2012 – Jones apparent refusal to face Chael Sonnen on short notice caused the UFC to cancel UFC 151, the first time they'd ever made such a decision. Jones was meant to face Dan Henderson, but when Henderson was ruled out with injury, Jones didn't want to risk facing a new opponent without proper planning. It's the first sign of a fractured relationship between the UFC and their young champion.
August-September, 2014 – After a period of quiet dominance, Jones and Daniel Cormier scrap at a press event for UFC 178 in Las Vegas. Jones was subsequently fined $50,000 and given 40 hours of community service by the Nevada State Athletic Comission for the altercation.
January, 2015 – Jones defeats Cormier before checking into rehab just three days later after testing positive for cocaine metabolites prior to their fight. He remained in rehab for 24 hours, and the UFC fine him $25,000 dollars for the test failure.
April-October 2015 – Jones is in a felony hit-and-run involving a pregnant woman. Jones fled the scene before turning himself in to the police. He's then stripped of his UFC light heavyweight title, and suspended. He eventually avoids jail time, but is given 18 months probation. After the sentence, he is brought back to the UFC.
March, 2016 – Jones is taken to Albuquerque jail after violating his probation due to being given five tickets for drag racing. He is filmed being abusive to the officer in question. He is then told to take anger management and driving classes. jailJones is booked into county jail in Albuquerque for violating his probation. The week prior he was accused of drag racing and given five citations.
Comments
comments