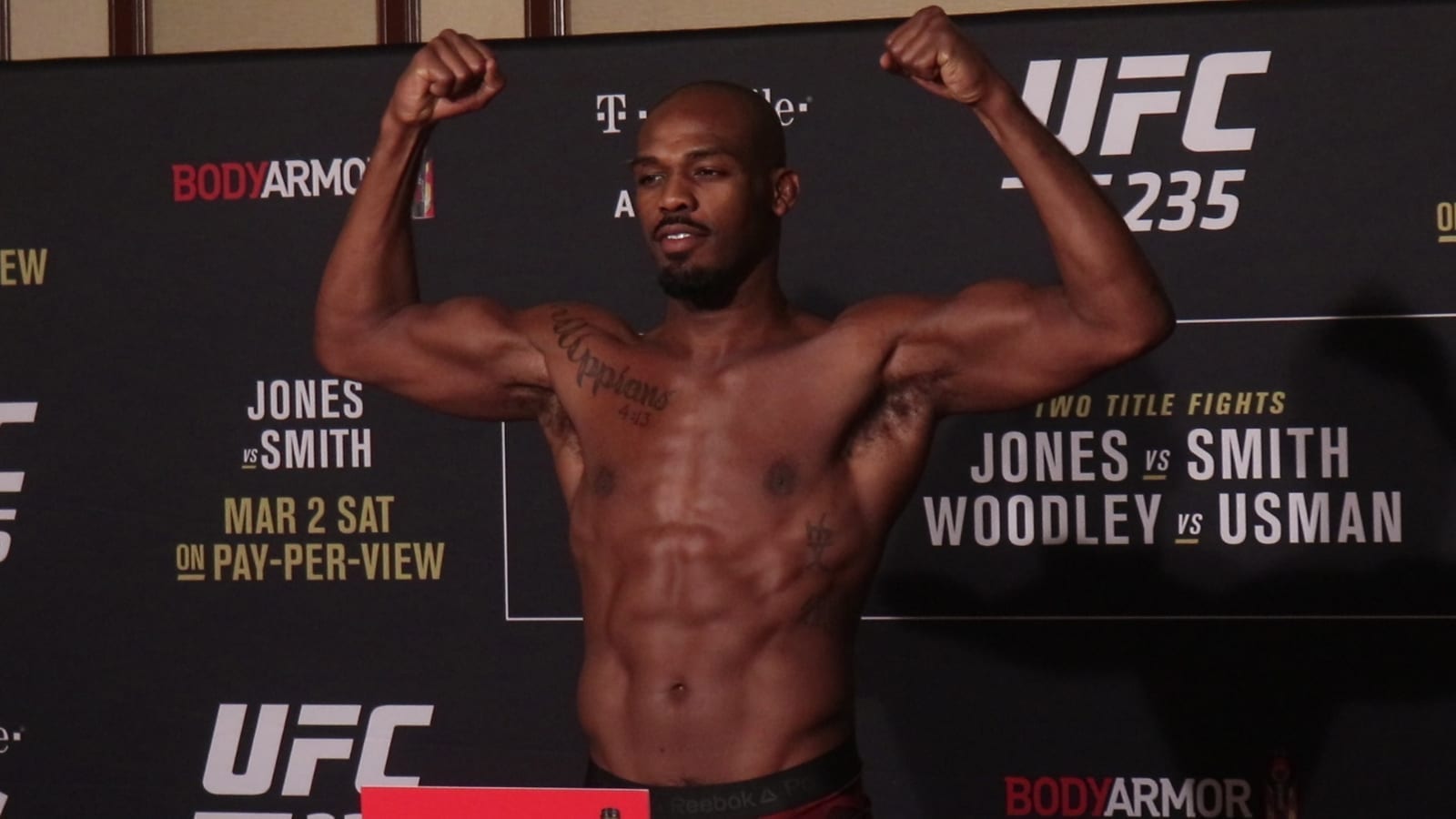 Jon Jones' latest legal infraction looks set to cost him the gym at which he has spent the majority of his UFC career.
The former longtime UFC light heavyweight champion was arrested in Las Vegas last month, just hours after he was inducted into the UFC Hall of Fame for his classic first scrap with Alexander Gustafsson. It is the latest in a string of legal incidents which have blighted much of Jones' record-breaking career — and apparently it was the final straw for Jones' longtime trainer Mike Winkeljohn.
"I just had a conversation with him, I said, 'Jon, here's the deal, man," Winkeljohn said to Ariel Helwani on The MMA Hour. "You're like my little brother. You have to stop drinking and fix these things for a certain period of time until you can come back to the gym.'
"So at the moment, he's out of the gym. He's not allowed to come to the gym 'cause I feel that… I don't know, I feel I had to do that because ignoring it and expecting different results, as they say, is insanity. He's got a lot of yes people around him that won't tell him the truth.
"He might hate me for it, but I had to tell him the truth. But in my heart… Gosh, that guy is capable of greatness. And I'm not talking about just fighting. In my heart, I hope he comes back, wins the heavyweight title, stops drinking, goes forward. He goes on to bigger things.
"Oh my goodness, he's capable… He's so charismatic, he's so dang smart, and he can sit down, break down fights and he can break down a lot of things in life. He's capable of doing much bigger things than just this MMA world.
"The hardest part was when you heard that his daughter had to call the police officer. It's just tough 'cause for my standing, it's… I got three daughters. I have a wife, three daughters, mom… I teach women's self-defense. It just makes it hard when he keeps getting in trouble."
Jones, meanwhile, addressed the incident on Twitter for the first time since his arrest.
I love how people are imagining the worst possible situation in their heads and making it somehow factual. I never hit my fiancé and our daughters were woken up after our confrontation. My daughters didn't see or hear us arguing.

— BONY (@JonnyBones) October 13, 2021
That's really the only thing I care to clarify.. outside of that, looking forward to moving forward without alcohol. It's the first time in my life where I'm actually ready to quit. Glad to have the support of my fiancé, family friends and fans

— BONY (@JonnyBones) October 13, 2021
Yep I totally understand that, that's why I'm not going to do some big PR stunt, hire a publicist. I'm not gonna do anything like that. I know it's real. I know that I'm ready. Time will take care of the rest https://t.co/yTzrpVv7wu

— BONY (@JonnyBones) October 13, 2021
–
Comments
comments