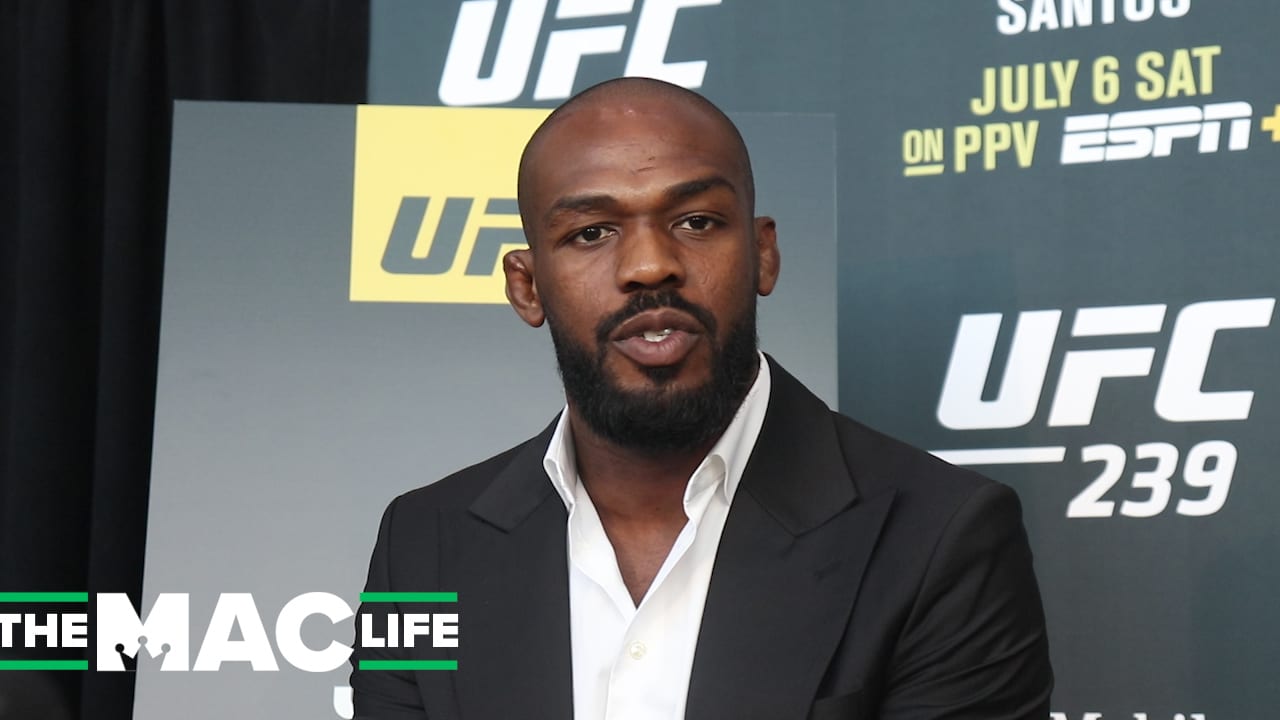 Jon Jones is happy for Khabib Nurmagomedov and his win at UFC 254 — but he isn't willing to let the Russian walk away with fans considering him the greatest.
After Nurmagomedov's win over Justin Gaethje, the undefeated lightweight called for his name to be atop the pound-for-pound list come Tuesday when the new UFC rankings are revealed. Sitting at home in the United States, that apparently rankled former light heavyweight champion Jon Jones, who took to his social media to make an impassioned case as to why fans should consider him, not Nurmagomedov, the Greatest of All Time in mixed martial arts.
"15 world titles, numbers don't lie," Jones wrote. "Definitely a powerful moment, but my logic is definitely not clouded. I'm just going to ask for the heavyweight championship belt and see if they give it to me. Since we can just ask for things now. I've won 15 world titles, he just won his 4th. The fact that this is even a conversation is mine blowing to me. I ask why should he just be handed a goat status, people tell me I should just let him have his moment. "Unfortunately his moment" is associated with my life's work.
"I got signed by the UFC literally nine months after my very first MMA practice. Unheard of. When I signed with UFC I was one of the youngest fighters on the roster, youngest champion in the history of the sport and have only had three competitive fights. I understand most people have never been number one in their community, state, let alone the world. My competitive nature won't allow me to just stand by and see someone ask to be considered the best. I've sacrificed too much blood."
15 world titles, numbers don't lie.

— BONY (@JonnyBones) October 24, 2020
Definitely a powerful moment, but my logic is definitely not clouded.

— BONY (@JonnyBones) October 24, 2020
I'm just going to ask for the heavyweight championship belt and see if they give it to me. Since we can just ask for things now 🤷🏾‍♂️

— BONY (@JonnyBones) October 25, 2020
I've won 15 world titles, he just won his 4th. The fact that this is even a conversation is mine blowing to me. https://t.co/DiJQ4X5vjl

— BONY (@JonnyBones) October 25, 2020
I ask why should he just be handed a goat status, people tell me I should just let him have his moment. "Unfortunately his moment" is associated with my life's work https://t.co/F4rRVE7wE4

— BONY (@JonnyBones) October 25, 2020
There really isn't. I may not have 20 million followers but my journey continues. The records will keep stacking https://t.co/KH2tNcxgge

— BONY (@JonnyBones) October 25, 2020
I got signed by the UFC literally nine months after my very first MMA practice. Unheard of

— BONY (@JonnyBones) October 25, 2020
when I signed with Ufc I was one of the youngest fighters on the roster, youngest champion in the history of the sport and have only had three competitive fights. https://t.co/kixnRfkQbR

— BONY (@JonnyBones) October 25, 2020
The same Company who accused me of possible steroids vindicated me from it. If I just started fighting for titles four fights ago, I look like an absolute beast too. But OK, I guess you're only worth your last performance in this game🥴 https://t.co/cwhb7BZX1J

— BONY (@JonnyBones) October 25, 2020
I understand most people have never been number one in their community, state, let alone the world. My competitive nature won't allow me to just stand by and see someone ask to be considered the best. I've sacrificed too much blood https://t.co/EmGRKpgmso

— BONY (@JonnyBones) October 25, 2020
I mean if I get out ranked by a man with only three title defenses, I don't really know what to think anymore https://t.co/eQejGlRd1r

— BONY (@JonnyBones) October 25, 2020
Bro when you're black in America, so many things don't add up. I'm just calling it how it is. Have to work four times harder https://t.co/3Xwb2FEXQT

— BONY (@JonnyBones) October 25, 2020
If we're having a popularity contest, I'd gladly take my L. This shit has nothing to do with fame or being a good person. I've giving my whole adult life to this game, I owe it to myself to speak up.

— BONY (@JonnyBones) October 25, 2020
The saddest thing about this situation is that the company is probably going to honor his request and demote me. It will be insulting but not much of a surprise. I'll just use it as motivation

— BONY (@JonnyBones) October 25, 2020
–
Comments
comments