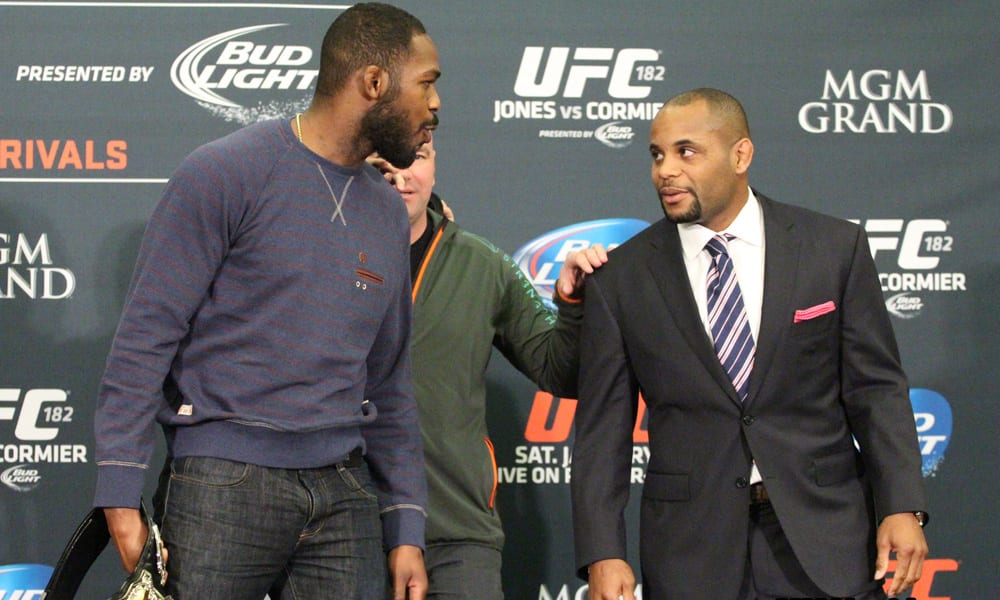 Next week, Jon Jones and Daniel Cormier will meet in the octagon for a second time in the latest installment of a rivalry which has consumed the UFC's light heavyweight division for almost three years. The reality, though, is that the verbal sparring between the two best 205-pound fighters of their generation began long before they make their walk to the cage at UFC 214 — and will likely continue long afterwards.
The latest barrage, from Jones in this instance, goes back to last summer's UFC 200. Jones and Cormier were set to battle for the latter's title belt before Jones was pulled from the card at the eleventh hours due to a USADA violation. Anderson Silva filled the Jones-shaped hole at the top of the card and, while he lost a one-sided decision to Cormier over three rounds, it seems as the Silva wasn't overly-impressed with what Cormier brought to the cage that night, at least according to Jones that is.
Speaking at this week's media call to promote their fight, Jones revealed that Anderson Silva called him recently and a large part of their conversation concerned Silva's experience fighting Cormier a year ago.
"He said, 'It was almost surprising the level of fear I felt from Daniel,'" Jones said of the conversation, as reported by MMAFighting. "He said to me, 'I'm an old man now, and Daniel had to take me down round after round. I felt fear coming off of him. This man has fear in his heart.' He said, 'Know what you're capable of, go out there and you take this from him.' In a roundabout way, that's what he said.
"Anderson Silva is my idol," Jones continued. "He's been the guy that I've respected the most since I was 19 years old and I got into this sport. And to hear him have that level of faith in me and pretty much tell me that it's already done, now I just have to go out there and do what I'm capable of, it felt great. It felt great coming from him."
However, and much to his credit, Cormier answered with a retort of his own.
"It's good that they're friends," Cormier stated. "It's good that Anderson called him with advice. That would almost be like me having Glover Teixeira calling me to tell me how to beat Jon Jones. He lost. It's much easier to give advice about someone you lost to. He don't want to see me win. I beat him. He don't want to see me win. So go get Jon to do the job that he couldn't do."
Shots fired.
Comments
comments