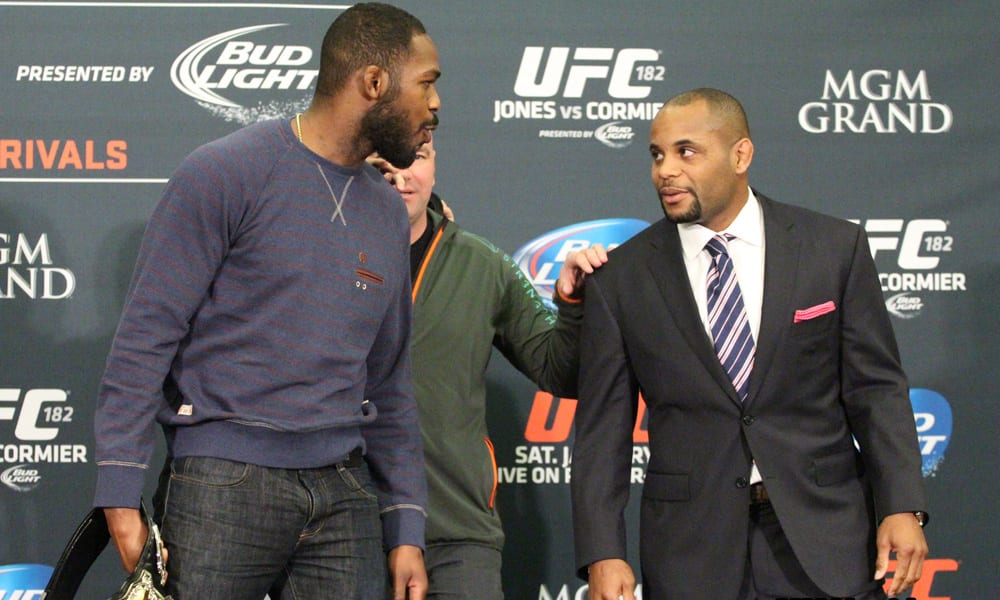 Jon Jones and Daniel Cormier have for years been embroiled in one of the most antagonistic rivalries that has ever been seen in mixed martial arts but the animosity between the two was confined somewhat after Cormier refused to dig the knife in further upon Jones' recent arrest for driving under the influence of alcohol.
Jones was arrested last month in Albuquerque, New Mexico but instead of celebrating the light heavyweight champion's most recent indiscretion with the law, Cormier sounded a rather different bell.
"Seeing him get into trouble again, a lot of people in my circle text me almost celebratory, but that's not me," Cormier said to ESPN last week. "I didn't celebrate the kid getting into trouble again. I don't think you should celebrate or dance on someone's grave in their darkest moments. Because you don't do that to people."
It seems as though these comments were seen — and appreciated — by Jones, at least temporarily.
My job is to be one of the most elite level competitors in this planets history, his job is to score the opportunity to speak to guys like me. 🤷🏾‍♂️ He's relevant for talking about people who are talented. Let the man have his fun https://t.co/XJqggoArez

— Jon Bones Jones (@JonnyBones) April 13, 2020
Responding to the above question in a since-deleted tweet, Jones wrote: "I won't comment, he was decent in his last comments regarding me."
It seems as if the final chapter in the Jones-Cormier rivalry may well have been written. Cormier has said that he is no longer chasing a third fight with Jones and is instead focused on a rubber match with current heavyweight champion Stipe Miocic.
Comments
comments