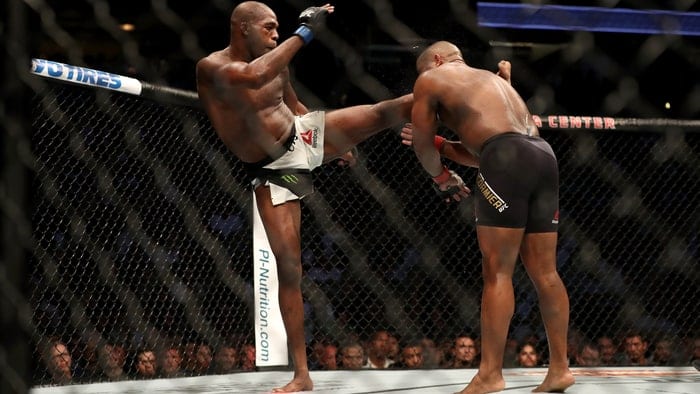 When Jon Jones fired comments Daniel Cormier way yesterday, it came across as slightly out of the blue.
While the pair are renowned bitter rivals, Jones' assertion that Cormier is the subpar double champion compared to Conor McGregor, along with a challenge to Cormier to fight Jones for a third time appeared mostly unprovoked. Yesterday on the UFC 232 media call, Jones expanded on those comments, citing an interview Cormier had done mentioning Jones' most recent steroid controversy.
"The only reason I brought up the name of Daniel Cormier is that he brought up my name," Jones said. "And I just figured, when I was in trouble, I just stepped back, all summer long, and let everybody talk as much shit as they want, and just talk blindly, knowing no facts. I watched everybody that I beat in the past say 'ohh, he was on steroids when he fought me the first time, that's why he beat me.' I just sat back and let everybody have at it.
"I stayed quiet for almost a whole year," he continued. "And now I'm back, and I'm ready to reclaim my throne, and the sitting down and being quiet days are over. Daniel Cormier opened his mouth about me. He wants to sell to the people that steroids had something to do with my success. He would love it if, that's the dialogue he wants to get out there, that's the narrative he wants to get out there, and I want to nip it in the bud."
"Pinch of salt, no pinch of salt. You still had steroids in your system in a fist fight," Cormier stated. "Not cool."

Daddys baby still out there whining, What proud "double Champion" just vacates his belt because someone else returns to the sport? 😩

— Jon Bones Jones (@JonnyBones) December 20, 2018
Fight me one more time and prove you're actually the champ champ. I'll donate $100,000 to a charity in San Diego if you accept. Conor McGregor was an actual double Champ, the whole world knows your claim is a freaking joke. You're more than welcome to be my first title defense

— Jon Bones Jones (@JonnyBones) December 20, 2018
But while he's prepared to 'nip this in the bud', Jones is still open to a third fight.
"I challenged Cormier to be my first title defense, and let's see what he does. I don't think he responded yet, and I think everybody knows he doesn't want to fight me a third time," Jones said. "I'm not out to get Daniel Cormier. I'm here protecting himself the guy's out there making comments about me and I'm just responding."
–
Comments
comments