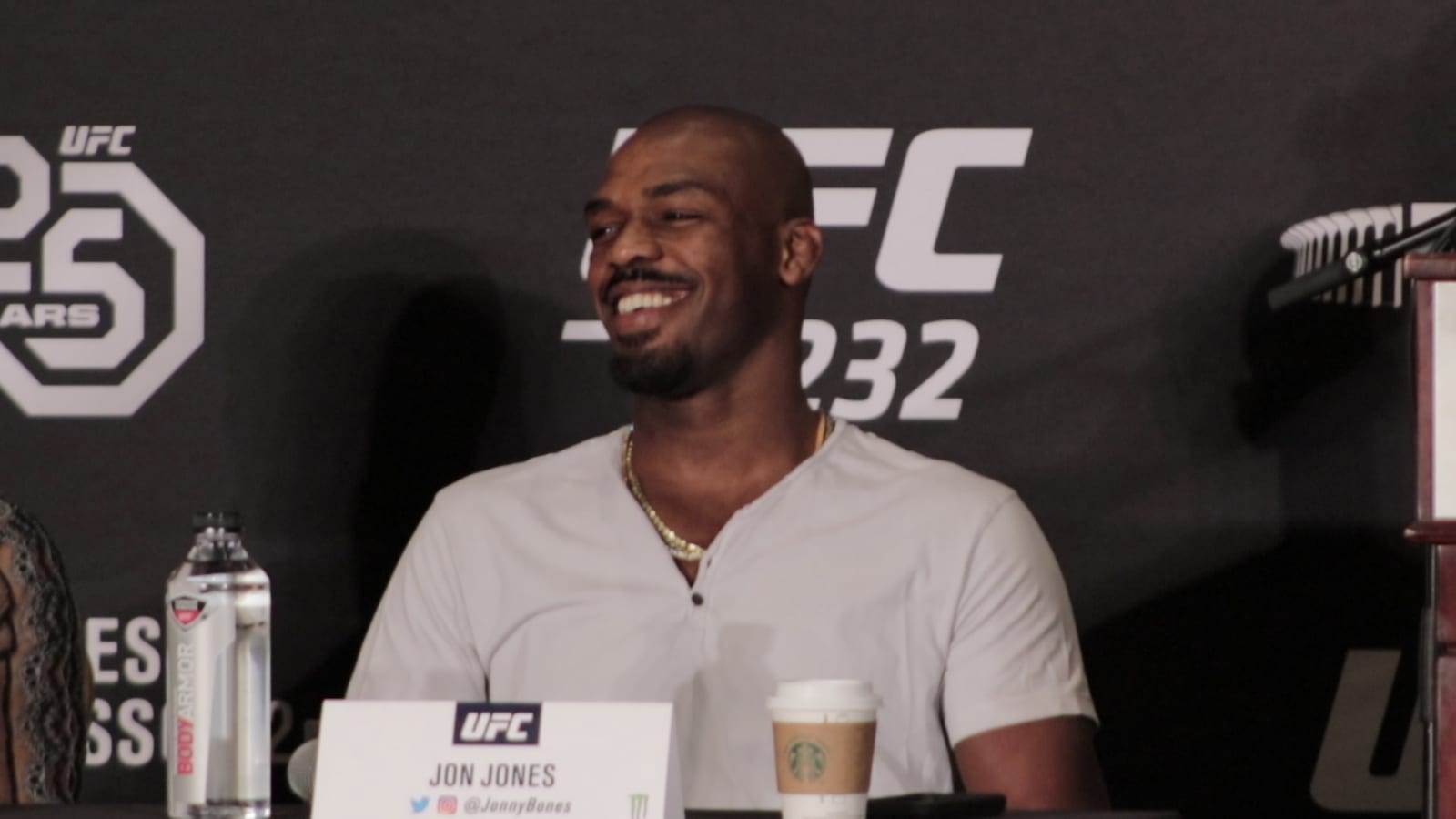 Jon Jones believes he should be paid more for the last run of his UFC.
The UFC light heavyweight champion and the promotion have been in disagreement over pay since Jones asked for a rise to go up to heavyweight and meet Francis Ngannou. After UFC president Dana White shrugged that off and publicly derided the negotiations, Jones announced his intention to retire.
Now, Jones says he's more than happy to sit on the sidelines if it means getting what he wants long-term and believes his stance will help younger fighters in the future.
"The UFC will go on whether I fight or not," Jones said, speaking to Steve-O on his Wild Ride podcast. "I got nothing to lose being in the position I'm in. I don't want to fight soon. I have no interest in fighting in the UFC until I get paid what I believe I'm worth. … I think it's really powerful when you stand up for what you believe is right. I think eventually the UFC will realise they're being stubborn, they'll realise that they do have a special athlete in myself and I think they'll eventually meet me halfway.
"I won't get into specific numbers. I'm not asking for anything outrageous. I know the pandemic, I know when you're a multi-millionaire when you ask for more it makes you seem like this greedy person. I'm well aware of all this, but I'm always very aware that I have the voice and platform to make change. Most of the guys who are doing the absolute worse are not in a position that they can say publicly, 'I have a second job. I'm borrowing money from my parents'.
"I know many fighters that are living in Jacksons MMA gym because they can't afford their own apartment. And they're UFC fighters. So this is sad. And if I have to have a bad relationship with Dana. Sit out for two years, three years to bring light to what's happening then these are the things people remember you for more than winning belts. That I stick up for the younger fighters."
In terms of why Jones feels he deserves more money, it's mostly down to the higher risks he'll be taking against heavier and larger fighters. Combine that with the fact more people are interested in seeing him meet Ngannou or Stipe Miocic than some of the contenders at 205-pounds, and you see why he believes he deserves more.
"I think I'm even more beatable as a heavyweight and that's why I went to Dana White looking for a raise," Jones said. "Daniel Cormier got a raise when he went heavyweight. I was looking for a raise to go heavyweight. Francis Ngannou is scary. There's a big chance he could break my jaw. I'm okay with that. As a fighter, I've whooped enough ass that if someone eventually gets me, we all have our day. I'm okay with that, but I think that shit comes with an increase in pay. I think me at heavyweight, the pay-per-view numbers go up inevitably, more people are going to watch.
"… There was zero negotiation. Whether you go heavyweight next, whether you fight Dominick Reyes next, whether you fight Jan Blachowicz next, you're going to get paid the same amount of money and that's what made me retire."
When the talks reached the public, White claimed Jones wanted "Deontay Wilder money", with the suggestion Jones had asked for around $30 million to compete. Jones denied that figure, but did say his pitch to the UFC was for more money upfront than a rise in PPV earnings on the back end. Perhaps in part to a suspicion that he has to take the UFC at their word.
"What I wanted was the guarantee up-front to go up a bit," Jones said. "Because at the end of the day, when I fight I don't know exactly what the UFC brings in … With the UFC no one questions what is happening in the backstage. No one is really auditing them to see how many PPVs it actually did sell. They could say you sold 200 buys and here's your check. Or they could say it's been 700 buys this time."
Comments
comments