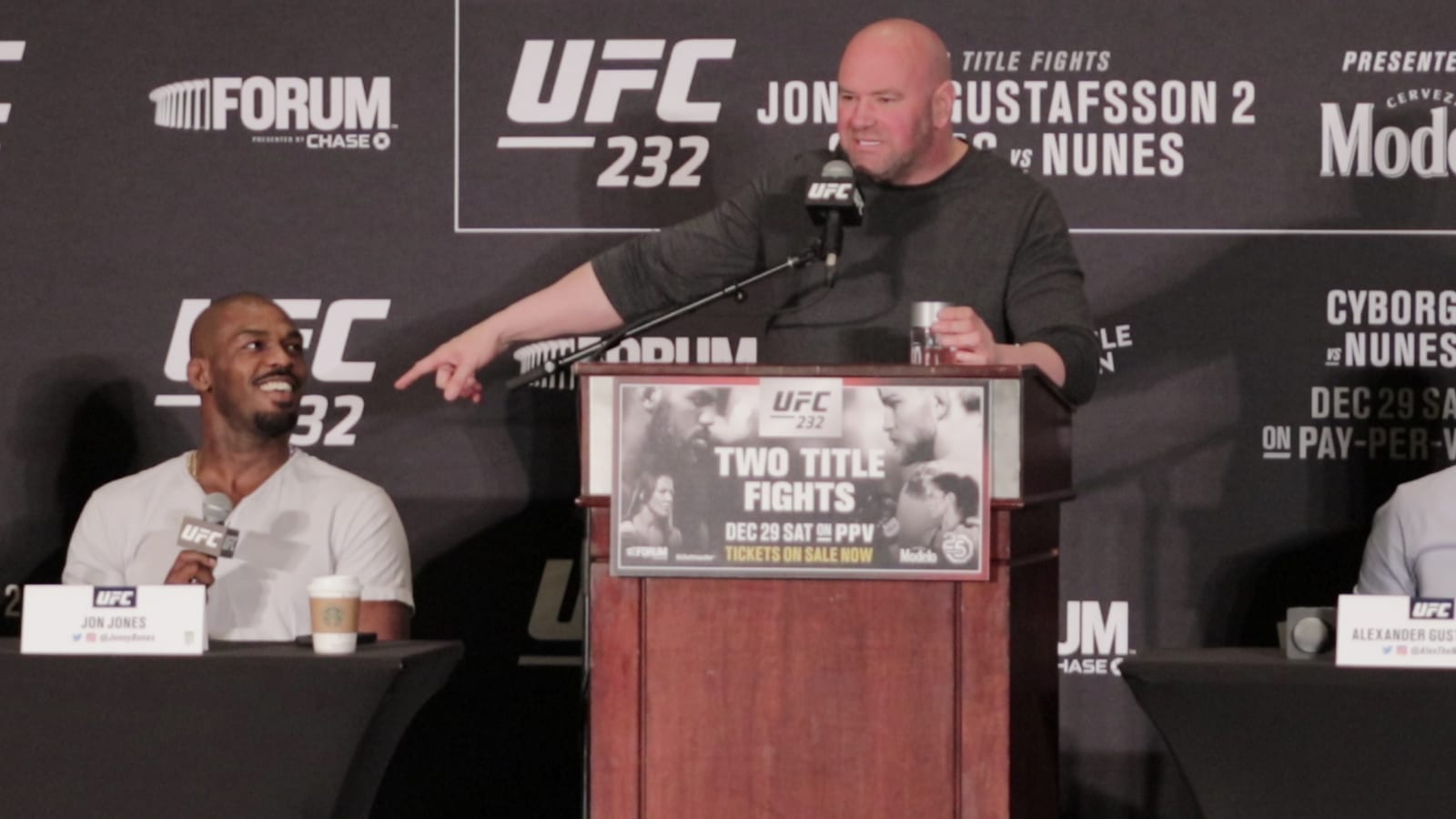 Jon Jones is concerned about his relationship with UFC president Dana White, and feels unwanted at the UFC.
The UFC light heavyweight champion and White have been in a war of words for the past few weeks after Jones wanted a bump in pay to fight heavyweight Francis Ngannou. White took the suggestion poorly, and negotiations were scrapped with White publicly stating Jones wanted "Deontay Wilder money."
For Jones, it's reached a point where things feel a little personal with White, and that's something that concerns him in terms of a working environment.
"That's the most messed up thing about my situation currently," Jones said, speaking to Steve-O on his Wild Ride podcast. "In any other profession, if you're unhappy with how you're being treated or the way you're being paid or whatever, you can just take your shit and leave and go to the next boss and see if they value you more. In my situation, I would be forced to retire from fighting completely unless I wanted to coach or own a gym. My hands are tied.
"I do believe wholeheartedly that the company that owns Bellator and some of these other leagues do have the same amount of financial backing that the UFC has, and I do believe that having Jon Jones being the new face of your promotion — especially today when I'm really making an effort to get my shit somewhat together.
"I think right now is a good time for any company to have me and my goal is to be an asset to any company that I'm a part of. I got a feeling if I am able to get out of my UFC contract, then I would be huge for another company. I just wish my relationship with Dana wasn't the way that it is. I get that you want to make these hundreds of millions of dollars of me, but if you don't like me any more, if you flat out don't like me … You can say [I'm the greatest] but I don't think he actually likes me. I've never had whiskey night and dinners and shit like that. I don't think I'm his favourite person, and I think it's been clear when you watch his interviews when I come up.
"My point is if that's what it is, if it has got to a place of being personal, then I would much rather work for a company where I felt home. I'm home when I go to work. … It's just a weird feeling when you feel like they don't really like me."
–
Comments
comments