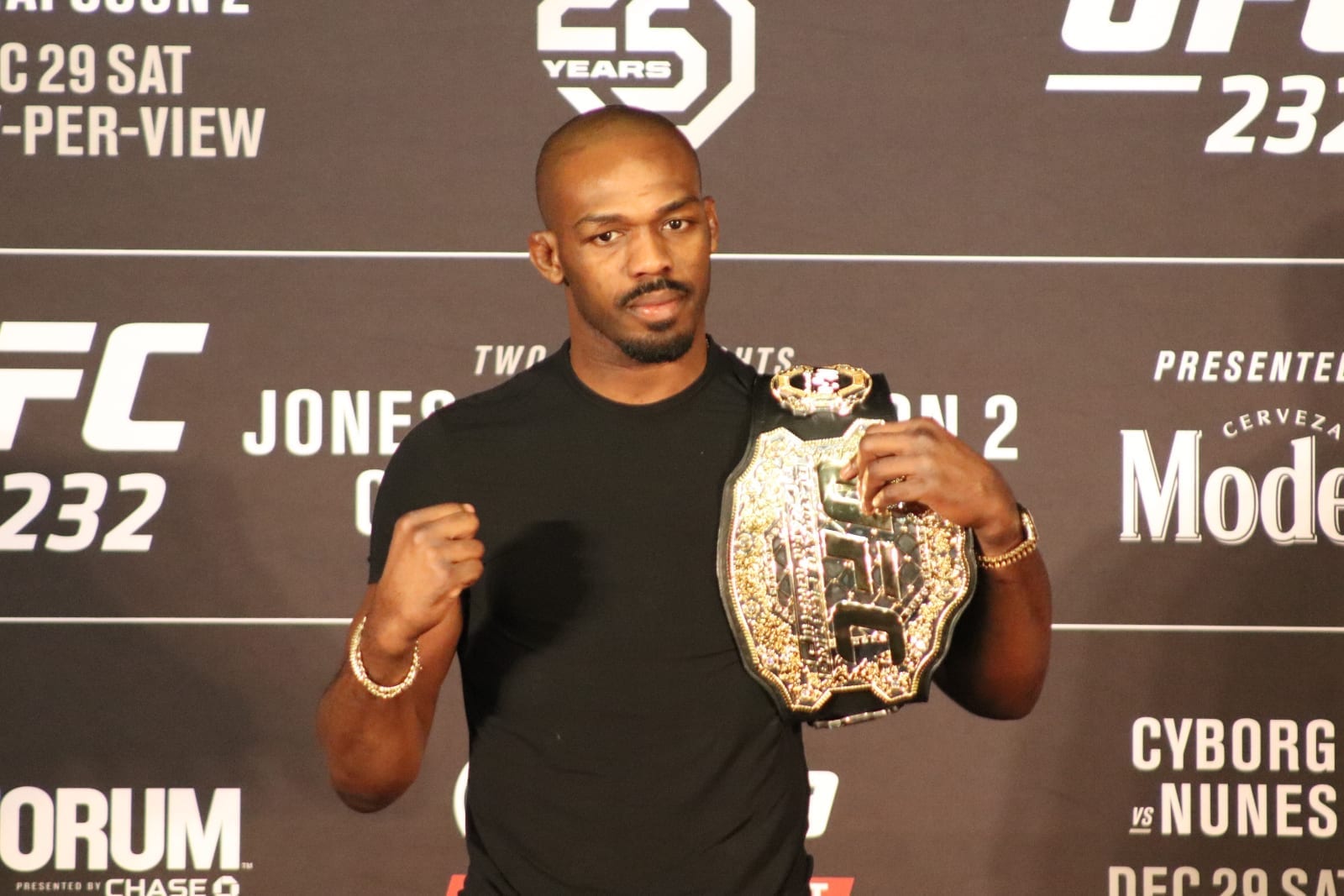 Later this year, UFC heavyweight champion Daniel Cormier will step into the Octagon and face off with Stipe Miocic for the second time. Should he win that encounter, the future Hall of Famer has made no secret of his desire for a third fight with his greatest rival, Jon Jones.
Ask Jon Jones, however, and you get the sense he doesn't really believe a third fight is on the cards. It's not that he thinks Cormier doesn't want a chance at redemption, it's just that he can't see a route to fight night for the now heavyweight, even if he does think Cormier beats Miocic.
"I think Stipe will put up a better fight, but I do think DC will win again," Jones said, speaking on Dan Hardy's Open Mat show on BT Sports. "DC's an extraordinary athlete. His flexibility and his speed, for the way he's built doesn't really make sense. Even his endurance for the way he's built doesn't really make sense. He's a special athlete. I don't think most guys would beat DC. I think the way to beat DC is to catch him with a knockout shot, which Stipe has the power to do, question is can he land it? I think DC's smart. I think he'll use his wrestling and wit to find a way to win again.
"And then he'll retire. Or fight at heavyweight again. He's never coming back to light heavyweight again. He says it, but there's no way he's coming back to light heavyweight. To commit your life to lose that kind of weight and to come up short again would be so devastating. It would take an incredible amount of courage to attempt it, and to come up short would just be so devastating. I doubt he'd put himself through that."
DC to beat Stipe? 🤔
Jones 🆚 DC III? 🤔

"DC is a special athlete, I don't think most guys would beat him!"

"My greatest chance of losing would be to Cormier."@JonnyBones joined @danhardymma's #OpenMat after UFC 237… pic.twitter.com/AAPSOE6cFV

— UFC on BT Sport (@btsportufc) May 14, 2019
Jones' comments would, you'd think, then only leave one viable way for the pair to fight one last time before Cormier calls it a day — at heavyweight.
Fans and pundits in MMA, including UFC president Dana White, have made no secret of their desire to see what a Jones vs. Cormier without a weight cut would look like, particularly after Cormier's stunning first round KO over Stipe Miocic last July. But while Jones has flirted with the idea of a move up, it seems he's not quite ready to offer Cormier an advantage.
"I'm a realist. Daniel Cormier's a special athlete. Everyone can be beat, and I think my greatest chance of losing would be to a guy like Daniel Cormier," Jones said. "With giving him a power and strength advantage over me, it just doesn't make sense. Right now, I make light heavyweight very easily. It would just make no sense to fight a guy who's technically on your level, and to give him a size advantage? I'm not doing it. I'm not doing it, I'm sure my fans don't like to hear me talk like that, but that's just me being a realist and being respectful to Daniel's abilities."
Comments
comments