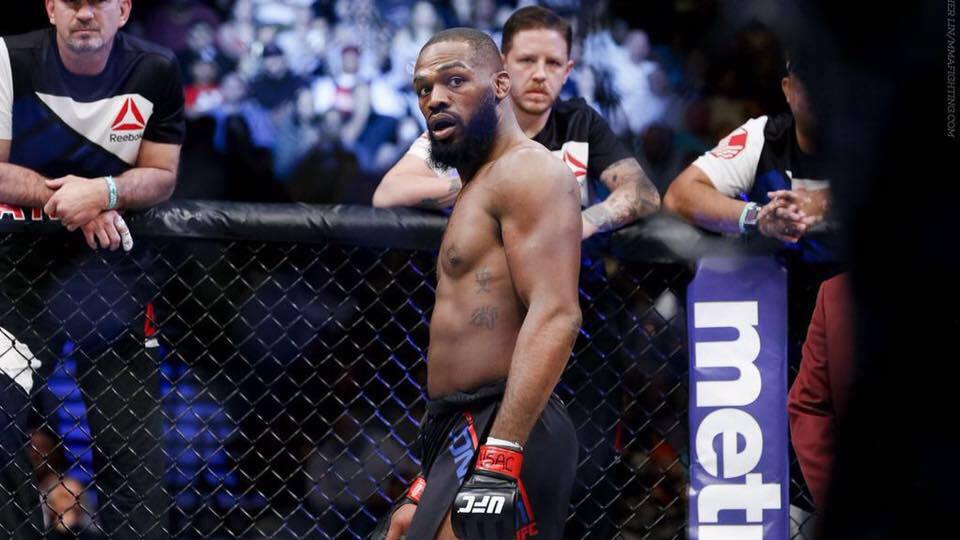 Jon Jones is back, and he's already throwing out some bold predictions — apparently inspired by fellow UFC star Conor McGregor.
Jones was recently given a 15 month suspension by USADA in relation to a failed drugs test at last years UFC 214. While 15 months doesn't sound like cause for celebration, the nature of it being backdated means the former UFC light heavyweight champion will be able to return at the end of next month.
According to Jones, he hasn't been wasting his time away.
"I've been training non-stop over this course of a year," Jones said, speaking with RT Sports. "Muhammad Ali said, 'don't count the time, make the time count.' And I've been making the time count by trying to get 1 percent better every single day. I've been doing a lot of powerlifting still. Doing a lot of kettle bells, Russian kettle bells type workouts, and I've been doing a lot of boxing.
"I feel like boxing has been, my physical power, my one-punch knockout power, hasn't been the best, and my boxing technique hasn't been the best over the course of my career, so now I'm working on developing power and proper form. I feel like that hole that was in my game has been closed up, and I'm trying to take a weakness and turn it into my strength. I feel like that's what I've done."
Now, with Jones' availability confirmed, talk naturally has moved to the question of who.
Names such as Daniel Cormier and Alexander Gustafsson have emerged, particularly with Jones' desire to reclaim his UFC light heavyweight title, and Jones himself believes a rematch with Gustafsson isn't far away.
"I've been hearing about the possibility that Alexander Gustafsson will be the first person I fight when I come back, which I'm excited about," Jones said. "A lot of people feel like he beat me the first time we fought, which didn't happen, it was close, but he didn't beat me. So Alexander Gustafsson is a possible first fight back, I'd love to fight him again and take him seriously this time. The first time I fought him, I wasn't living life the way a champion should be living life.
"I didn't train very hard for that fight, I'm not making excuses, but this is just the truth, I could have given it a lot more effort, I got fatigued after the first two rounds, which is something that never normally happens in my fights, so I feel like the next time I fight him, I will finish him."
That being said, Jones has ideas that may surprise fans.
After creating a huge legacy inside the UFC — albeit one ridden with controversy — Jones believes fans are looking for him to do things outside of the ordinary, much like they do with Conor McGregor.
And, after garnering a reputation for being careful, Jones wants to work towards emulating the Irishman's attitude to fighting.
"I'm kind of in this space now where I feel like I don't really have things to prove in the cage," Jones said. "I just knocked out Daniel Cormier in my last fight, and some people consider him to be the best fighter that ever lived, so I don't really feel like I have that much to prove, as far as being a light heavyweight champion and defending that belt.
"Right now my mindset is more about making money, even those big fights, you know, I watched Conor McGregor fight Floyd Mayweather, and it was high risk, high reward. There's a saying, 'scared money don't make money'. I gotta be brave when I get back in the game, and start challenging guys that I could possibly lose to, because that's what people want to see.
"They want to see Jones versus Velasquez, they want to see Jones versus Ngannou, that's what people want to see, and that's where my mindset is – Jones versus Anthony Joshua, or Deontay Wilder, you know, that's what people want to see."
Comments
comments