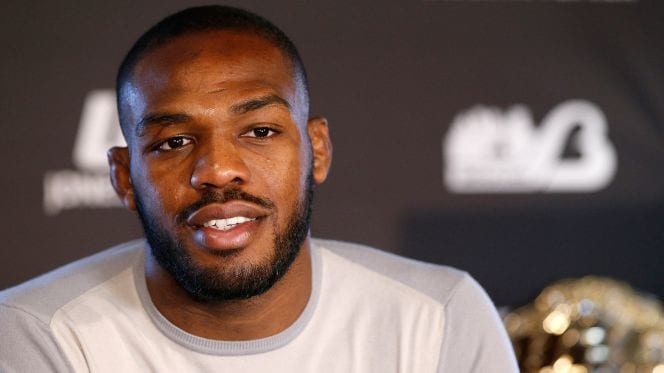 The latest controversial saga involving Jon Jones is starting to feel like one of the most long lasting.
The former UFC light heavyweight champion has been out of action since UFC 214, where he defeated rival Daniel Cormier in the third round — although that victory was subsequently overturned after Jones failed a drugs test for the steroid Turinabol. Since then, fans have awaited the final verdict on how long Jones can expect to be suspended, with as long as four years mentioned as a possibility.
While there was a development earlier this year in the State of California, where Jones' fighting license was rescinded for the time being, it's now UFC anti-doping partner USADA that holds Jones' fate in their hands. According to Abe Kawa, fans (and Jones himself) might not have to wait much longer before hearing the decision.
"It's complicated," Kawa said, speaking on MMAFighting's The MMA Hour. "USADA does a very good job. People are banging on them and hating on them. There's things I do not agree with with USADA. I've told them behind closed doors things I don't agree with. But USADA does a very good job. They've done a very good job cleaning up the sport.
"It's imperative that they get this right. It's imperative that they get this case right, because of who Jon is. And I think they're doing the best they can to get it right. With that being said, I'm confident that we will have a decision soon. I just don't want to put a date on it and say, it's gonna come down at this time, it's gonna come at that time. There is a decision coming and it's hopefully sooner rather than later."
While some might consider a suspension as long as four years to be something of a career ender, Kawa says Jones is remaining positive and continuing to train, particularly after seeing Georges St-Pierre return from a four year absence to win UFC gold last year.
"He's in a good place," Kawa said. "He's anxious to get back more than anything. People you say you get that itch — he's got an itch, man. It's bad. I actually feel bad for the next guy that fights him. I really do. Not saying he's going to take it all out on him. But he's sharpening his tools to where you thought he was good before, wait until you see him now."
"When he saw GSP do what he did, it actually lit a fire under him," Kawa said. "He said, 'Man, you know what, if he can do that after four years, why can't I? Why can't I go out there and do that?' Or whatever it might be. So, Jon, never once did he say, 'I'm gonna quit, I don't want to do this anymore'."

—
Comments
comments