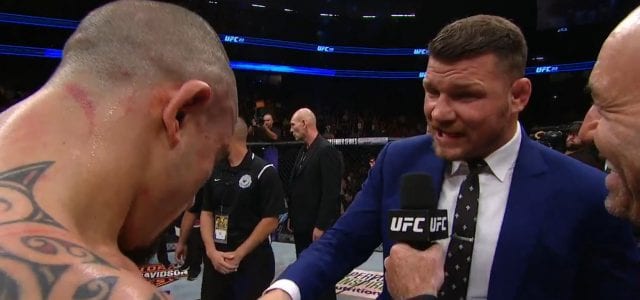 Last year, it seemed set in stone that Robert Whittaker and Michael Bisping were going to meet in the Octagon.
Whittaker had defeated Yoel Romero at UFC 213 to become UFC interim middleweight champion, and seemingly guarentee himself a shot at the undisputed champion Bisping. Then, as well known by now, Whittaker fell victim to serious illness, and stepped aside so the returning Georges St-Pierre could have a go at the Brit. In the end, St-Pierre won the belt before eventually vacating it to leave Whittaker as champion, before last week when Bisping's time as an active competitor came to an end.
But while fighters might have old grudges they'll regret never being able to settle with Bisping, Whittaker isn't amongst them. In fact, he's actually more grateful the two never traded blows.
"I think he's a true warrior," Whittaker said, speaking on the UFC 225 media call. "I really do. He's done it all. He's lost, he's won, and he's become champion. He's a true test of endurance and determination. I really do, I think a lot of people can learn a thing or two watching his career.
"In terms of fighting him, from one fighter to another, there's a lot of respect in terms of wanting to fight each other. There would've been a lot of respect there and a lot of honor earned, but I'm happy not to have fought him, just due to the fact that I've always watched him and, if I'm going to be honest with myself, I'm a bit of a fan of his, to be honest."
–
Comments
comments