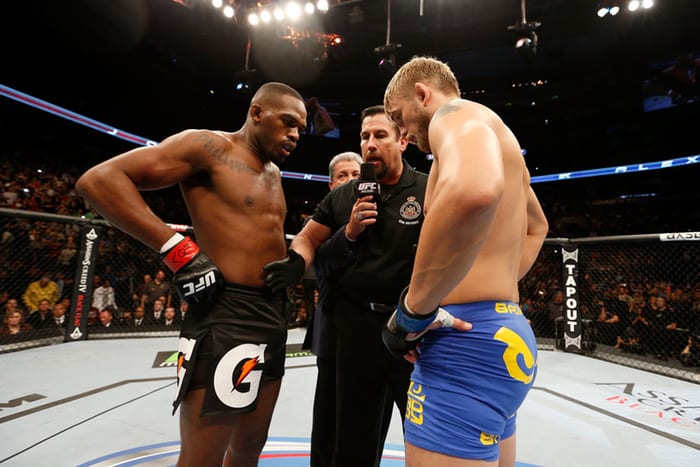 It appears fans will have to wait for Jon Jones versus Brock Lesnar — and instead will get a fight just as anticipated.
Since Lesnar's return to the Octagon seems to be a more complex issue than first thought, with the WWE star having to serve a six month suspension from USADA, the newly (re-)crowned light heavyweight champion Jones looks to defend his belt in the meantime.
And as if defeating arch nemesis Daniel Cormier wasn't enough, Jones is ready to once again face the man who gave him his toughest fight ever — Alexander Gustafsson.
"Every fight gets my blood flowing," Jones said, speaking with MMAjunkie. "I know how important it is to never underestimate anyone. I get up for every one. I think the Gustafsson fight is an option for us right now. We're just going to wait and see. We're weighing our options right now."
@JonnyBones congrats Champ. Stop asking for retired fighters, I've been waiting to put my hands on you and so have all the fans.

— Alexander Gustafsson (@AlexTheMauler) July 30, 2017
UFC 214 was Jones' triumphant return after an exceptionally unstable period of his career. By reclaiming the title he never lost, Jones once again put himself to the top of many pound-for-pound lists, and went someway to fixing his damaged reputation.
Some have speculated Jones could make a quick return to action, in order to make up for lost time. A return to Madison Square Garden in November looked as if it would play well, particularly with Jones being a native New Yorker — but the champion doesn't seem convinced.
"To be honest, I love being from New York, but my whole thoughts and dreams of fighting in New York – they're kind of starting to fade," Jones said. "Looking at it from a business standpoint, it's not a really good idea to pay 9 percent to the state of New York off the top just for fighting here. With 9 percent of every $1 million, that will add up real quick.
"I realize people from all over the world are going to watch it, whether it's in Vegas or Canada or wherever. It would have been great to be the first person to fight at Madison Square Garden, but now that it's happened and everything … I want to do it eventually, but it's not something that's a dream the way it used to be."
Comments
comments