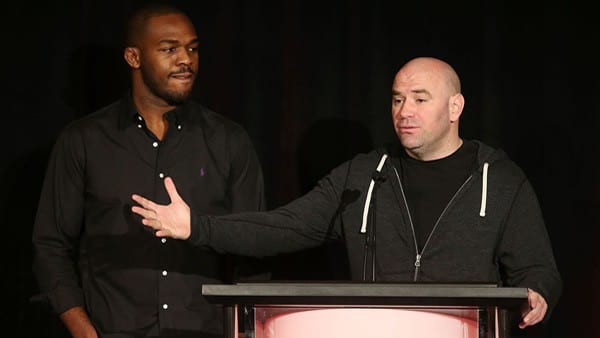 Jon Jones and UFC president Dana White haven't had the most cordial of relationships during Jones' run through the 205-pound division.
With White's infamous temper and Jones' equally infamous bad behaviour, it probably makes sense. But with Jones eyeing a return to the Octagon after being given a fifteen month suspension from USADA (backdated to last year), the former UFC light heavyweight champion wants to change that current dynamic.
"My relationship with the UFC is better than it's been in a long time," Jones said, speaking with RT Sports. "Me and Ari Emanuel have a very strong relationship, we talk on the phone at least once a month, sometimes he'll call me and say 'how are you doing, how are you feeling?', send me something for my family, things like that.
"I have the relationship with Ari that I always wanted to have with Lorenzo [Fertitta]. Lorenzo was a great guy, but we just weren't close. Me and Ari, I feel like there's a different vibe between us, that I'm very grateful for and I'll do my best to try and keep.
"Me and Dana White, it's me and Dana White," he continued. "We don't really talk much, but I'm looking to change my relationship with Dana, I really want to be close to him, and have that relationship where we hang out, we do things together, we talk on the phone, I think I wrote him recently on his son's birthday… so I want to take steps to develop a stronger relationship with the UFC.
"Fighting against the UFC while working with the UFC doesn't help you. Not being tight with your boss does no good, so I really want to change things and become close with the UFC and become a company guy."
Comments
comments