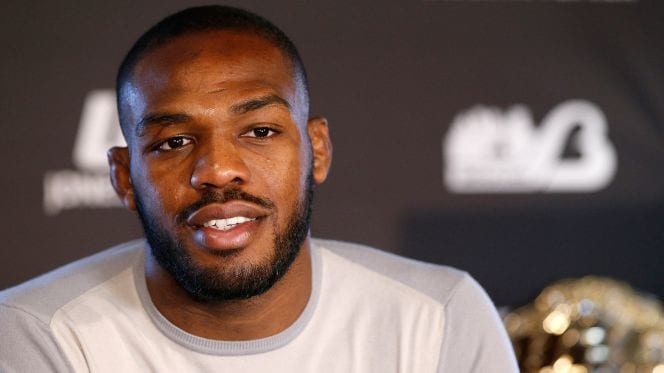 Former UFC champion Jon Jones believes any people still using his failed drugs tests against him are only doing so in order to discredit his talent for fighting.
Last month, Jones was given a 15 month suspension by USADA for a failed drugs test at UFC 214. Due to the suspension's backdated nature, Jones will be eligible to compete next month and is set to make his return against Alexander Gustafsson in December.
And speaking on a Jackson-Wink podcast JW Raw, Jones shot back at critics who believe he knowingly cheated, and pointed to the amount of banned substances in his system as being far too low to achieve any legitimate gains.
"I would say that those would be people looking for an excuse not to give it to me, not to give credit where it's due," Jones said. "Because in the first situation, it was proven — well, in both situations, whatever was in me chemically was proven scientifically that the amounts were so small that there was no way possible to affect my performance in a positive or a negative way.
"The two times where I've failed drug tests for performance enhancers, it's been so small that it can't affect your performance."
"The dick pill situation, that was proven that it was a mistake," he continued. "Who takes a male enhancement pill expecting to fight better? I mean, nobody. We actually found the company, we found the exact pills, we ordered the pills and the pills came back with stuff in it that wasn't supposed to be in there. Such a small amount that it's not going to make you fight any better or make you stronger.
"Then in the second situation, we just found out to have USADA say 'the amount of steroids we found in your body Jon, it was like taking a pinch of salt and throwing it in an Olympic size swimming pool'. It was such a small amount that it's pretty obvious that this was an accident. And then for this to be something that got into your body two weeks before the fight — so two weeks before the fight, you took a pinch of steroids and threw it in an Olympic size swimming pool. It's very clear that this is nothing that helped you knock out Daniel Cormier."
All in all, Jones believes people should focus on his ability, not the out-of-cage controversy.
"For anybody who's saying, 'Well, he must have been cheating,' it's like, okay, after what I just said, if you still want to call me a cheater, then you just don't want to admit that I'm fucking pretty good at this," he said.
Comments
comments