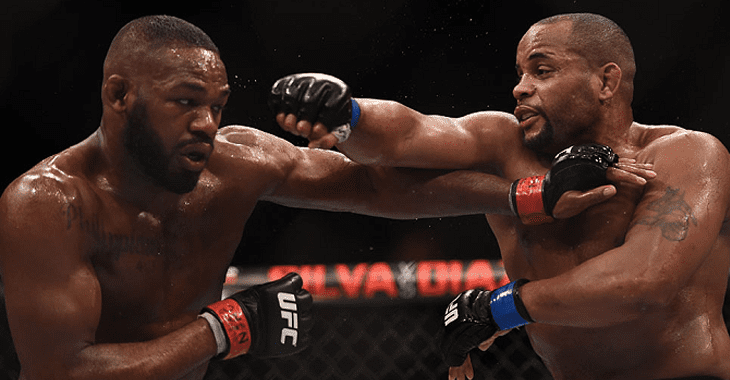 There are a few guarantees in life. Death, taxes and Jon Jones vs. Daniel Cormier.
Despite Jones currently serving an enforced sabbatical, and despite Cormier riding a high of being a UFC double champion, the pair still can't seem to let their personal lives get in the way of their dislike for one and other.
This time, the feud was reignited after Jones voiced his opinion that Cormier had no legitimacy in his title of 'champ-champ', saying that once he returned and dethroned his rival, fans would know who was the real two weight world champion.
"A part of me was upset at first [at Cormier's win for the heavyweight title]," Jones said, speaking with RT. "First, I was surprised. Then I became a little upset because Daniel Cormier was crowned the first heavyweight and light heavyweight champion and in my heart I know that Daniel Cormier is not the light heavyweight champion, so it bothered me at first.
"At the same time, I feel like when I come back into the game and get my light heavyweight championship back and become a heavyweight champion simultaneously, I feel like the fans will know that I'm truly the first heavyweight and light heavyweight champion."
After hearing those comments, Cormier fired back, reminding Jones of his current predicament in regards to banned substances.
Big goals for a guy that could only achieve them after he finishes getting disciplined for his 3rd drug failure! I mean jeez this guy #Cheater https://t.co/Kfuki7qRCM

— Daniel Cormier (@dc_mma) September 4, 2018
Naturally, Jones fired back.
Does my big goal somehow offend you? Why the need for name calling😩

— Jon Bones Jones (@JonnyBones) September 4, 2018
I set you up with several attacks to your body, you begin to protect your belly so I kicked you in your head. but you're right somehow a steroid metabolite right before the fight made me smarter. You're the champ champ, I'll stop dreaming now

— Jon Bones Jones (@JonnyBones) September 4, 2018
Ok, that's actually a good one with yo bitch ass! But you actually were on steroids the little white chick might not be , but you were n***a lmao https://t.co/aYdmcpf28o

— Daniel Cormier (@dc_mma) September 4, 2018
–
Comments
comments