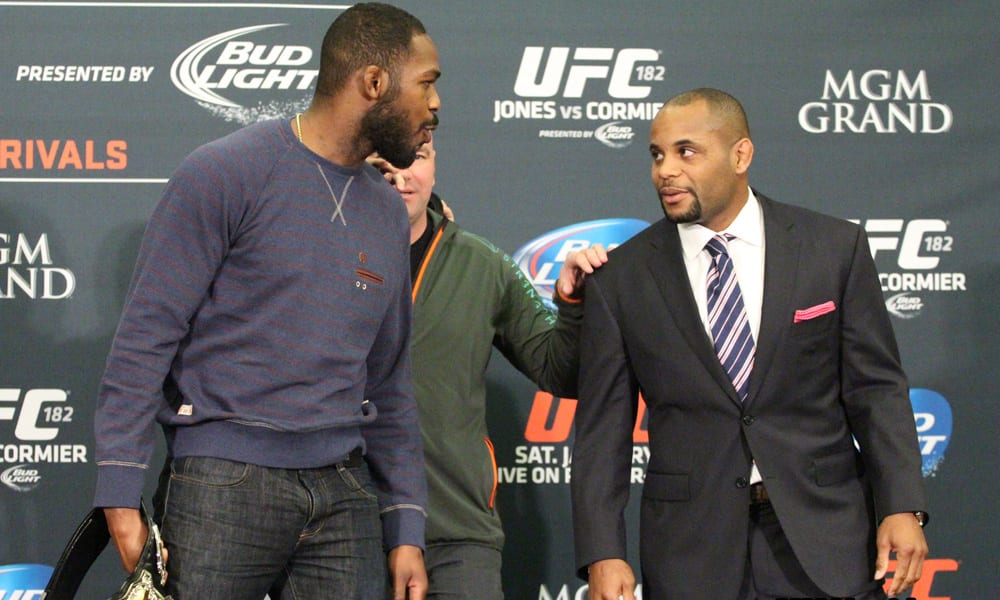 It looks like absence doesn't make the heart grow fonder when it comes to old rivals Jon Jones and Daniel Cormier, as the pair are back in a war of words.
Last week, Jones took umbrage at a statement by Cormier where the current UFC light heavyweight champion said a win over Stipe Miocic would put him in the conversation for greatest of all time status, asking on his social media, "If he's in the conversation does that make me the motherfucking man?"
In response, Cormier elected to ignore the question, telling CBS yesterday that Jones doesn't have a platform anymore, and that Cormier wouldn't be giving him one, saying, "He's a nobody. He has been suspended again. He's mired in controversy for drug abuse. Your issues are tied to steroids, performance enhancers. You don't get a platform when you're like that. It's like me glorifying Lance Armstrong."
Evidently, Jones disagrees with that viewpoint as well, as today the former champion took to his social media to blast Cormier, hinting that a third fight could take place at heavyweight should Cormier defeat Miocic at UFC 226.
I don't have a platform DC? That just sounds dumb. Even after years of suspension I have just as much if not more of a platform than you. Every win you get goes on my resume, You know who you dream about at night. I'm sure your wife knows too

— Jon Bones Jones (@JonnyBones) June 25, 2018
At first I thought you were trying to convince the fans I beat you because of performance enhancing drugs but now I'm pretty sure you have convinced yourself too. 🤣 keep doing that

— Jon Bones Jones (@JonnyBones) June 25, 2018
Good thing for you, the next time we fight I'll be all cleaned up. Let's see you dominate me this time since I cheated the first two🤣 👍🏾

— Jon Bones Jones (@JonnyBones) June 25, 2018
Good luck in your next fight, I've always wanted to be heavyweight champ… who's your daddy?

— Jon Bones Jones (@JonnyBones) June 25, 2018
It's the latest chapter in Cormier and Jones' storied feud, itself one of the most embittered rivalries in mixed martial arts history.
Since 2014, the pair have been linked to each other, both with their bad blood and exceptional talents at 205-pounds. While Jones has emerged victorious on both occasions the pair have fought, his career continues to be marred with controversy, with him currently on the sidelines for a failed drugs test.
With Cormier being adamant he'll retire on his next birthday, which takes place March next year, and Jones potentially facing a lengthy suspension from the sport, the chances of a third contest between the two appears to be increasingly slim.
Update: Daniel Cormier has responded.
<blockquote class="twitter-tweet" data-partner="tweetdeck"><p lang="en" dir="ltr">Jon, you're a bitch! You're one now always been one. Sit back and watch me be great, you steroid cheat. Let's not talk about wives man. Come on, I'm sure with all the shit you've done I could get a conversation from your wife. I mean from your girlfriend ,baby mama?😳</p>&mdash; Daniel Cormier (@dc_mma) <a href="https://twitter.com/dc_mma/status/1011377349391085568?ref_src=twsrc%5Etfw">June 25, 2018</a></blockquote>
<script async src="https://platform.twitter.com/widgets.js" charset="utf-8″></script>
–
Comments
comments