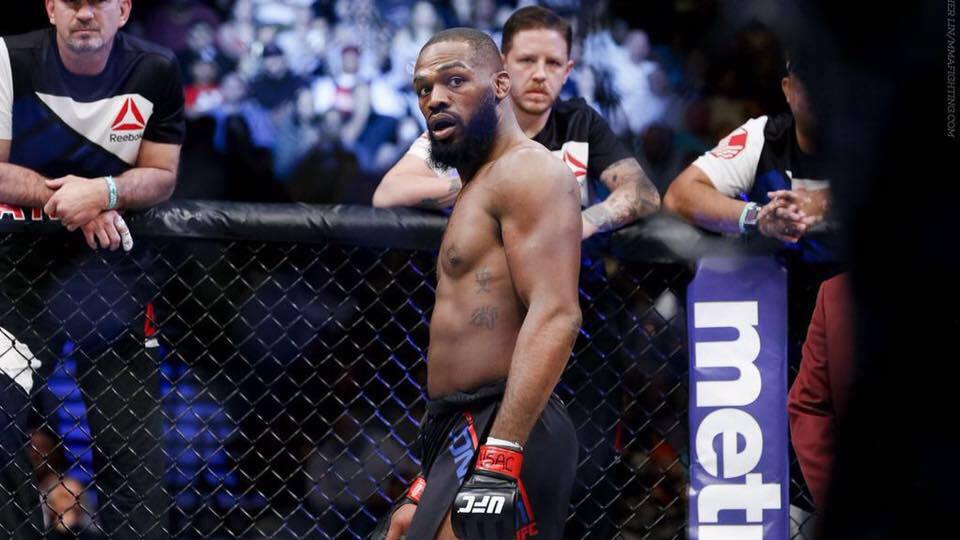 Saturday night in Anaheim, California felt like the closing of a chapter for Jon Jones and his teammates.
After being embroiled in an embittered rivalry with UFC 214 opponent Daniel Cormier for so long, to have it all culminate in a stunning (and emphatic) victory brought an end — both literally and metaphorically — to Jon Jones past few tumultuous years.
Impressively, despite the high pace of the contest, Jones never looked particularly out of sorts, even with just one fight in around fifteen months under his belt. With Cormier coming into the fight as dangerous and focused as he's ever been, Jones was immediately put under pressure, only to remind viewers why he's long been considered the greatest in the sport.
Speaking with TheMacLife.com, Jones' striking coach Brandon Gibson revealed that the crisp and elite nature of Jones' showing was down to one key factor — hard work.
"We've been working straight ever since the Ovince St-Preux fight," Gibson said. "Leading up to UFC 200 we'd worked so hard, we didn't take too much time off after that. One nice thing about not having an opponent with Jon focused and hungry still is we get to focus on a lot of non-fight specific/non-opponent specific techniques. Really just work on improving Jon as a martial artist.
"I think his wrestling got so much better over this camp — his grappling; his striking; his boxing; his kicks; his footwork.. I'm really proud of how much work he put in and it showed. There wasn't too much ring rust because we had stayed so sharp throughout camp."
One major story that's emerged since fight night is an old question and answer session Jones and Cormier shared back in 2014 before their first fight. During the event, Cormier was asked if he had any weaknesses, only for Jones to interrupt and suggest he already knew them. In response, Cormier suggested he would have resolved those issues before the two men met in the cage, stating "don't think you're going to kick me in the head with your left leg."
With that exact attack being the decisive strike on Saturday, it was worth asking if Jones and company knew going into the fight that very 'tendency' could be a determining factor.
"Oh absolutely," said Gibson. "Daniel, even recently in his last fight against 'Rumble' Johnson, had eaten two left head kicks in a row in the first round. While we knew the left head kick was open, we knew that [Cormier] was really going to work and improve on his defence, he knew that was a tool that Jon had from the first fight.
"We weren't able to catch him dipping as hard as he did like against Rumble Johnson, but what we did do was force him to drop that guard. And we did that with all the body shots, the kicks to the body, the knees to the body, the punches to the body, and that overtime caused Daniel to start guarding his midsection and that's what allowed us to create the opening for the head kick."
But, with the Cormier saga concluded, it is time for all involved to look ahead. Judging by Jon Jones' comments in the Octagon immediately following the competition, in this case 'ahead' might mean 'up'.
MIC DROP TO THE UMPTEENTH DEGREE FROM @JonnyBones #JonBonesJones 🔥 🔥 🔥 #UFC214 pic.twitter.com/Gaha3QzA0e

— UFC (@ufc) July 30, 2017
While there are still plenty of bumps in the road to resolve, at this point a Jon Jones-Brock Lesnar contest looks distinctly possible. After all, when Lesnar is renowned for going missing weeks at a time, for him to be reached and asked for comment moments after his name was mentioned is pretty remarkable.
For the fight to happen, Jones would be facing a noticeable size discrepancy. While the 205-pound king is by no means a small figure, Lesnar is well known for cutting down to the heavyweight limit of 265-pounds, leaving Jones likely facing a man 40-pounds larger.
According to Gibson, that might be a factor, but don't expect Jones or his team to be daunted by the task.
"I do think he has genuine skill," Gibson said of Lesnar. "While he's not a precise striker, he does carry a lot of pressure, he's explosive. Once he gets on top of his opponents, I think he has great positional awareness, ground and pound and obviously the strength and size that comes along with all that is Brock Lesnar. And, he's been a former UFC champion. I think that he has the confidence that it takes to compete at this level.
With all that said, there's a very clear path to beating Brock Lesnar. I believe Jon Jones has the technique, the skill and his own strength and size to be able to not only compete with Brock — but to finish him. Jon has so many tools, and I think his fight IQ is so high.
"We saw the traps we were able to set up against one of the greats ever in Daniel Cormier. Imagine what we'll do to Brock Lesnar."
Comments
comments