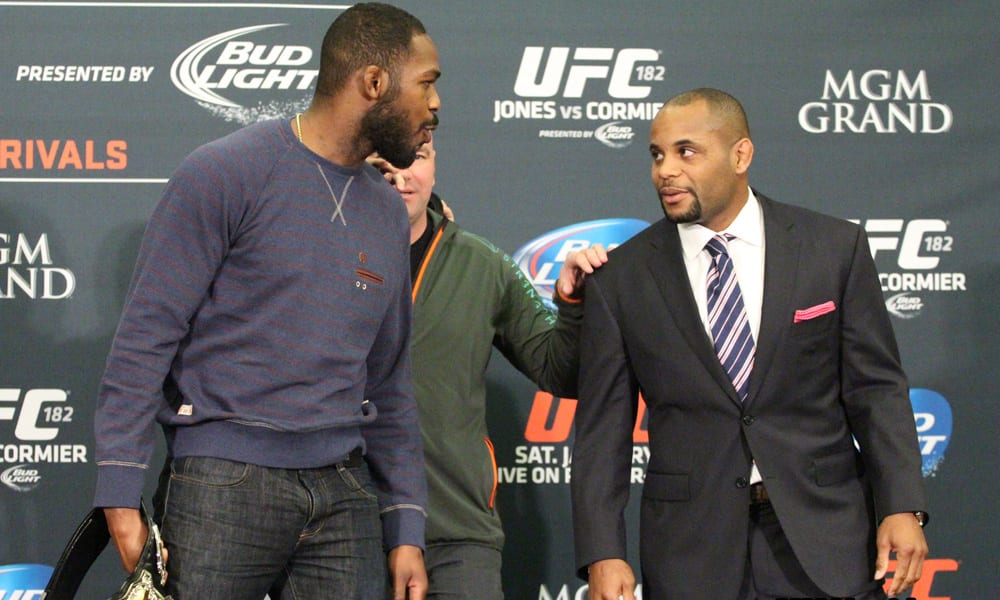 Jon Jones and Daniel Cormier haven't seem eye to eye for years, but you'd be forgiven for thinking Cormier's retirement would be enough to relax the disdain between the two.
Over the past couple of days, however, that's clearly wishful thinking, after the pair have gone back and forth over social media like they did during their rivalry when Cormier contended for Jones' light heavyweight championship. Yesterday, after Cormier suggested Jones wouldn't have knockout power as he moves up to heavyweight, Jones appeared on social media to mock Cormier with a video of Jones' knockout victory over him.
After Cormier replied that he was always able to get a reaction from Jones, Jones once again went to social media to fire off at his old foe, claiming you could always sense the bitterness from the 41-year old.
"33 years old with the option to be retired, took a break from the game with records you could only dream of, was clever enough to set you up with a head kick and crush one of your biggest sporting goals, yet you call me the dumb one. Yea, that insult really did the trick DC," Jones wrote. "I'm out here being a dad, enjoying the fruits of my labor, my friends hit me up asking if I see what's being said on the Internet. I login respond with straight facts and go back to minding my business. What do you say DC, friends? Are you done with the bullshit?"
33 years old with the option to be retired, took a break from the game with records you could only dream of, was clever enough to set you up with a head kick and crush one of your biggest sporting goals, yet you call me the dumb one 🤷🏾‍♂️ yea, that insult really did the trick DC 👍🏾

— BONY (@JonnyBones) March 3, 2021
You can still hear the bitterness in his words to this day. https://t.co/8PcYH0hqnw

— BONY (@JonnyBones) March 3, 2021
I'm out here being a dad, enjoying the fruits of my labor, my friends hit me up asking if I see what's being said on the Internet. I login respond with straight facts and go back to minding my business. 🤷🏾‍♂️

— BONY (@JonnyBones) March 3, 2021
What do you say DC, friends? Are you done with the bullshit? ☺️ https://t.co/WzCun0IwbF

— BONY (@JonnyBones) March 3, 2021
–
Comments
comments