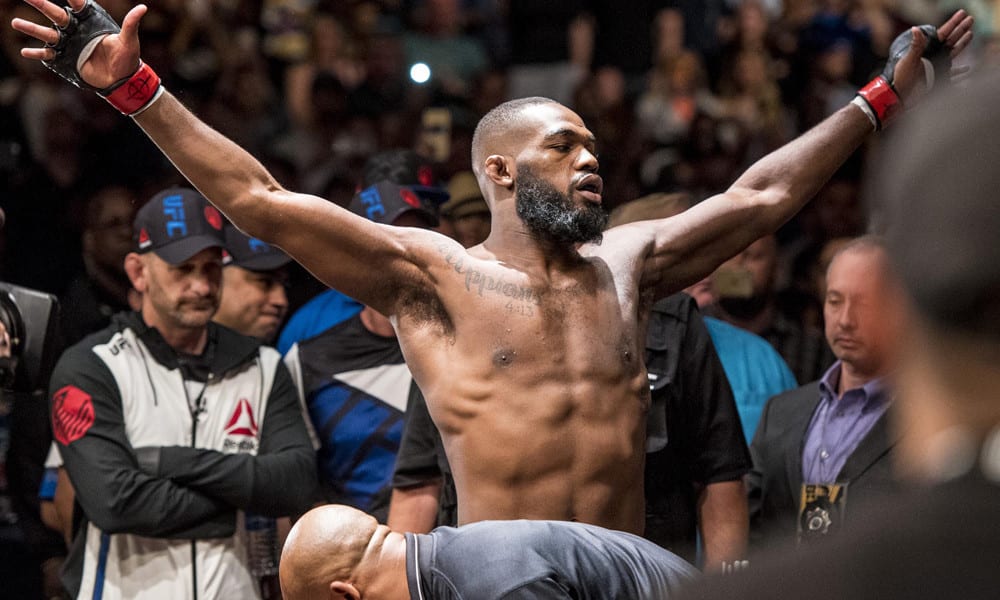 It seems as if it's a matter of 'when' and not 'if' Jon Jones makes his move to the UFC's heavyweight fold.
Jones, the most dominant light heavyweight in the history of the sport, has long said he has toyed with the idea of stepping up a division and appears to now have solidified his decision, having spent a number of months on the sidelines in recent times.
The former light heavyweight champion is expected to immediately challenge current 205-pound king Daniel Cormier for his title upon returning from his suspension next summer. What happens next, though, is open for debate.
Speaking recently on The Joe Rogan Experience, as reported by MMAJunkie, Jones stated that his move to heavyweight will be dictated in part by the right opponent becoming available.
"I do want to challenge for the heavyweight title, but I'm waiting for the perfect opponent," Jones said of his inevitable move up in weight. "I've beaten up a lot of heavyweights, man. Only people who train at (Jackson-Wink MMA) have seen that. I've picked up a lot of heavyweights. I've slammed a lot of heavyweights."
"I know that I'm capable. I just want to make sure I compete against the right stylistic match-up for me when I go to heavyweight and challenge for that title."
Jones said that the weight disadvantage he would face against some heavyweights would place him at a disadvantage. For a light heavyweight bout, Jones says he cuts down to around 220 pounds on fight week before cutting water weight to make the 205 pound weight limit.
For heavyweight bouts, he says he wouldn't be much heavier.
"I get myself down to about 220 on fight week," Jones said. "I get myself down to about 220 during fight week. Then I make sure the day of weigh-ins I cut about five pounds. It's nothing. I've been doing it for so long now, and I know it's my job to do it."
"(At heavyweight) I'll fight right around 230. I'll try to eat a lot and make sure my endurance and speed is where it needs to be."
It seems the current era of heavyweights would be more fitting for Jones than in years gone by. Current champion Stipe Miocic weighs in the region of 240-pounds, a size that Jones would presumably be more comfortable with when compared to heavyweight goliaths like Brock Lesnar, Frank Mir and Alistair Overeem who would clock in close to the 265-pound ceiling of the heavyweight division.
Comments
comments