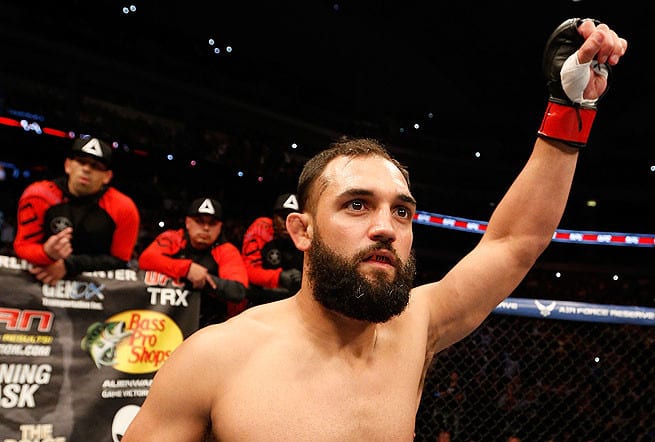 Back in 2014 when Johny Hendricks won the vacant UFC welterweight title in a thrilling battle with Robbie Lawler, it seemed as though a dominant successor to Georges St-Pierre had arrived on the scene, ready to rule the 170-pound division with the same type of fervor as the Canadian legend.
In the seven fights which followed throughout Hendricks' career he has won just two, missed weight three times and, somewhat against his wishes, moved a division north to 185-pounds landing himself squarely at a crossroads in his fight career.
This distinct lack of recent success — particularly when you hold it up to the light against his past achievements — led Hendricks to make some adjustments in his training. Chiefly, he uprooted and moved to the famed Jackson Wink training center in Albuquerque, New Mexico and, as he said to Submission Radio, he is already noticing the improvements.
"One thing that Jackson has done for me, it's something that I haven't done in a very long time, is fight back," Hendricks explained. "You know, had to bite down on my mouthpiece and fight back. And I got that, I'm getting that in New Mexico, at Jackson/Wink's. That's one thing that I can say they're doing, they're bringing it back out of me. And that's really what's important for me is to get that back."
The issue of Hendricks' weight will remain something that he will be continuously questioned on but he maintains that he is taking some serious steps to eradicate those problems from his career.
"I've been working with the UFC nutritionist," Hendricks added. "So I'm working with people, I'm working with them. My weight, I'm gonna try to hit under 200 pounds this week and then I'll be three weeks out from weigh-ins. By the time I get there my goal is to be right around 195-pounds, so he has an easy time with me. And those are all easy things to do. I've been eating a lot, I've doing a lot of things differently, been running more, you know, things that I'm not relying on other people about."
"Even though I'm working with the UFC on the nutrition side, I'm really on my own in a theory because I'm making sure that I do it. I've relied on other people and it's time for me to say, 'hey, now if I miss weight it's because of me."
You will get your chance to see the new and improved Johny Hendricks when he faces the undefeated Paulo Borrachinha on Nov. 4th at UFC 217.
Comments
comments