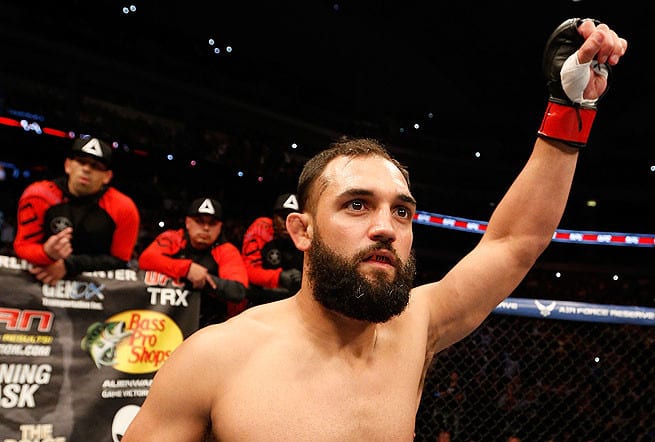 Georges St-Pierre's return has been one of the biggest stories (even if it is still unfolding) of the year in mixed martial arts.
While many are happy to see the welterweight legend coming back, there's been a vocal portion of the fanbase who've aired their displeasure over the fact St-Pierre is doing so and immediately finding himself in a middleweight title fight.
While his championship record is hard to deny, his legacy was formed at 170-pounds, and with a list of genuine contenders at 185, plenty of fans wish he would have just comeback to the division where he made his name.
But, while plenty of fighters at middleweight have their grumbles to make, one fighter sees nothing but an opportunity — Johny Hendricks.
"I can't wait to retire him again," Hendricks said, speaking with Submission Radio. "That's really what I've been thinking. You know, I told him, I have no disrespect for the guy, he did amazing things. But three years out of it, you know, things have changed. And he said that I'm washed out. Well guess what? It's a new Johny at 185. And I cannot wait for him to see, I can't wait to see how this happens. Because win or lose, I think he should come after me."
Hendricks was the man who faced St-Pierre last, before the French Canadian announced his self-imposed sabbatical. While the record dictates that Hendricks walked away with the 'L' that night, there is plenty of controversy about the judges decision that night.
Because of that, Hendricks wants his rematch, in order to prove to the fans that the judges did indeed get it wrong that night. Although, he says, if it comes down to St-Pierre or the title, there will only ever be one winner.
"Yeah, I wish I could fight him again, but if they said, 'Hey Johny, you can either fight Georges or you could go for the belt,' I'm going to take the belt every day," Hendricks said. "Because if he doesn't have it, then he's not on my radar. The only reason he's on my radar right now is because guess what, if he does beat Bisping, then I want him. Like I said, my goal is to take that belt away and retire him again. That's all that I can think of. But if he doesn't win and they say, 'You've got to fight Bisping,' then I'd choose Bisping over him any day of the week."
Comments
comments