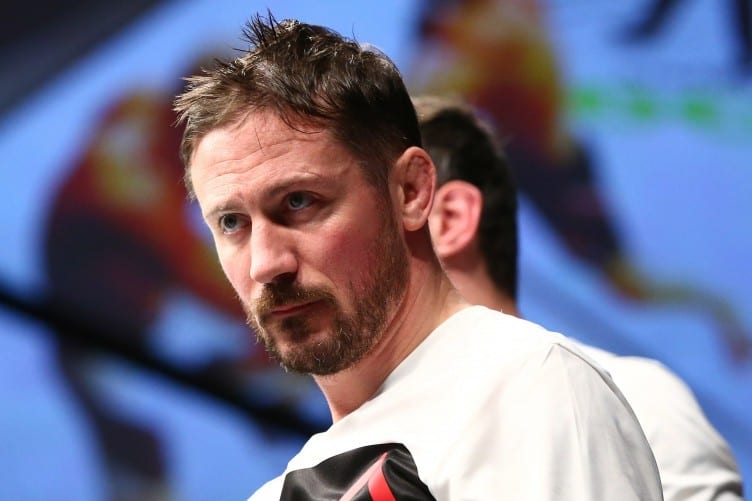 SBG Ireland has come a long way under the stewardship of John Kavanagh.
The gym, the first iteration of which was a claustrophobic, damp garage, has graduated into one of the top fight facilities in the world. Over the years several waves of top fighters have emerged from SBG and none have made more of an impact than Conor McGregor, the UFC's first ever champion of two weight classes simultaneously.
It doesn't look like slowing down, either. Aside from the battle-trusted fighters like McGregor, Artem Lobov, Peter Queally (and numerous others), a new generation of fighter is beginning to emerge from the Dublin-based gym. In James Gallagher or Richie Smullen, Kiefer Crosbie, Cian Cowley and Lee Hammond (again, there are several more names who could be mentioned here) the framework has been laid out before them. They have seen the success of others in their gym. Whereas in the past, and when the likes of McGregor, Pendred, Holohan and Daly were youngsters, there was no guarantee for success but more a stubborn optimism that if you put enough work in you will see results.
At last night's World MMA Awards, both John Kavanagh and Conor McGregor won their respective categories for Coach of the Year and Fight of the Year respectively and, while it may seem that both were being recognised for their achievements in 2016 the reality is that this is the culmination of more than a decade of hard work, most of which was done long before the public eye was firmly fixed upon them.
2016 has been a good year for Kavanagh and SBG and below are just a few of the reasons why.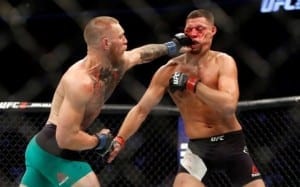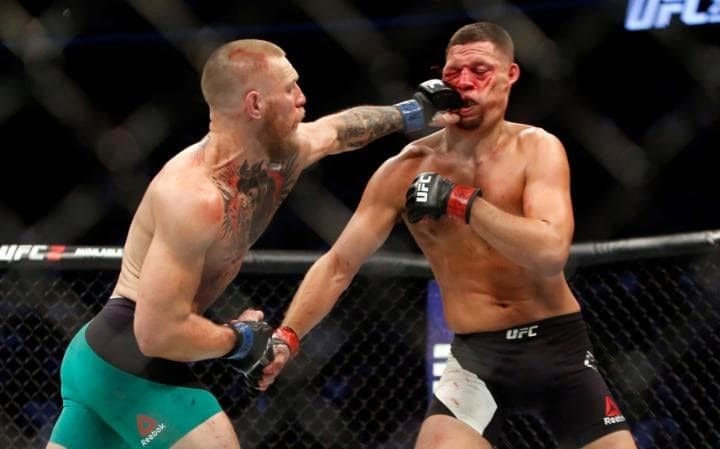 Conor McGregor rebounds against Nate Diaz
They say that a sign of madness is to do the same thing twice and expect different results and it was very much this order of approach the John Kavanagh decided upon when working with Conor McGregor to prepare for his second duel with Nate Diaz last August.
Kavanagh's strategy, coupled with an intense cardio training regimen, overwrote the blind spots they experienced in the first bout with Diaz several months prior and brought his fighter to a level capable of winning a grueling, five-round classic of a contest where McGregor outworked a triathlete to win judge's decision victory in one of the best fights seen inside the octagon in 2016.
McGregor employed a patient strategy, using superior boxing to flummox his opponent in the early rounds, flooring Diaz three times in the first two frames. Diaz, though, is as gritty a competitor as there is in mixed martial arts and held firm throughout a punishing 25-minute contest.
When it was all said and done, it was the Irishman whose hand was raised. The king was indeed back.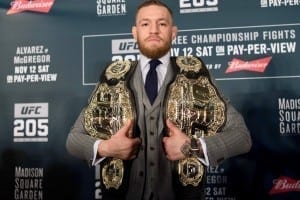 Double world champion
It seems fitting that the biggest UFC show in history was headlined by the sport's biggest star, achieving something which had never taken place in the history of mixed martial arts. Last November at UFC 205, a sublime four-punch combination heralded the end of Eddie Alvarez's UFC lightweight title reign and placed a second gold belt around the shoulder of Conor McGregor inside the grandest fighting stage of them all, Madison Square Garden.
McGregor's title win was about as flawless a performance as has ever been seen in a high level UFC championship bout. Alvarez was on the canvas on numerous occasions in the first round, as McGregor's concussive left hand continually found a home over, under or through the Philadelphian's guard. Finally, when Alvarez was floored with midway through the second round with a stunning sequence of blows, referee John McCarthy called a halt to the bout and wrote McGregor's name large in the annals of combat history.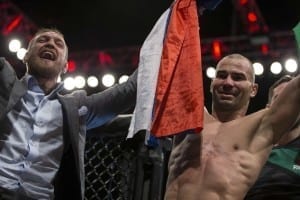 Artem Lobov's resurgence
After beginning his UFC career with two defeats Artem Lobov found himself backed into a corner. It turns out that's a very dangerous place to put 'The Russian Hammer'. At UFC 202, Lobov easily dismantled Nate Diaz's training partner Chris Avila for a decision victory but it was his performance in November against highly-touted Team Alpha Male prospect Teruto Ishihara which showed exactly how devastating force Lobov can be in the UFC's featherweight fold.
As Lobov will tell you himself, he somehow reserves his best performances inside the cage when he's facing highly dangerous opponents and against the Japanese — a fighter going into the bout on the back of two straight decisive knockout victories — Lobov turned in arguably the best performance of his career. Throughout the three rounds, Lobov had Ishihara retreating and seemingly incapable of finding an answer for the SBG fighter's vast array of striking techniques.
In the end, it was a dominant victory for Lobov which sent the Belfast crowd — and a ringside Conor McGregor — into raptures.
Cub Swanson is next for Lobov in his first ever UFC main event fight.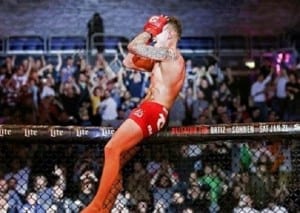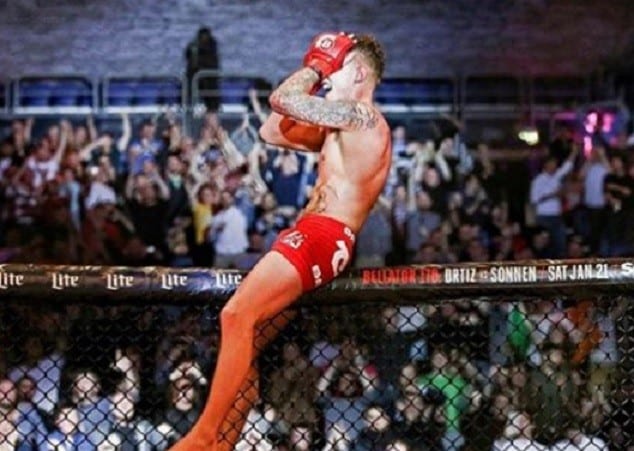 James Gallagher announces himself on the biggest stage
It seems incredible to think it but James Gallagher is just a few months removed from his 20th birthday and is already 6-0 in his professional career (with four of those being submissions), as well as 3-0 inside the Bellator cage and tipped to have another high profile match-up at Bellator's tentpole event in London next May.
Gallagher is one of those fighters who is still improving by leaps and bounds on an almost daily basis and it's going to be fascinating to see exactly where his potential can take him. His win a week ago against Kirill Medvedovsky at Bellator's Belfast show showed the rate of improvement has has undergone even since December's win over Anthony Taylor in Dublin. A bout with fellow undefeated Bellator featherweight AJ McKee looks to be next.
Something tells us 2017 is going to be another big one for 'The Strabanimal', as well as SBG Ireland as a whole.
Comments
comments