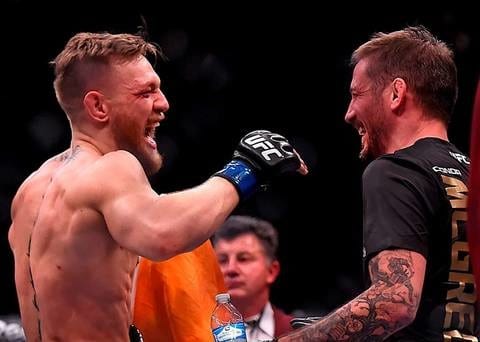 With a Conor McGregor return likely to be the biggest mixed martial arts story in the upcoming months, John Kavanagh has an idea in mind for how to make that return as big a deal as possible.
That idea? Conor McGregor vs. Nate Diaz 3 in New York on St. Patricks day of next year.
Speaking at the launch of the Original Penguin AW17 collection in Dublin with Mike Sheridan, Kavanagh put an end to recent reports that McGregor was set to make a quick turnaround from his boxing match with Floyd Mayweather, and compete in the UFC on December 30 at UFC 219.
"December 30th is definitely not happening," John Kavanagh said (H/T to Peter Carroll of MMAFighting). "I don't know how these things get started, but they have a certain way of gaining momentum. I can also tell you that his manager rang me this morning saying that him and Conor had been in meetings all day. Obviously, tomorrow is when we would start to consider the date."
With that night apparently out of the question, Kavanagh believes there is only one other date that stands out as the perfect opportunity to return. Saturday, March 17 —
St. Patricks Day — of next year.
"If it was my choice, and I must stress that this is only my choice and that doesn't mean it's going to happen, it would be Nate Diaz in March," Kavanagh said. "That's what I would push towards. I have in my head that it would be a Paddy's Day card in New York; Nate Diaz 3. I think that would be absolutely amazing. That's what I would wish for.
"That's what I'll be leaning towards with my 0.1 percent influence when I meet with Conor and [McGregor's manager] Audie [Attar] tomorrow. I want Diaz 3, Paddy's Day in New York. — Obviously, it could still be Canelo in May."
Diaz and McGregor make up one of the most celebrated and well known rivalries in mixed martial arts history. The two met twice in 2016, with both of those meetings becoming the two biggest UFC fights in history. Propelled by the duos unsympathetic trash talking, fans watched in their millions as McGregor and Diaz shared victories.
A rubber match has long been talked about as the biggest fight available to be made in the current climate.
There is, of course, an interesting caveat.
Next weekend in Las Vegas, Kevin Lee and Tony Ferguson are meeting for an interim belt in the lightweight division. History would suggest that McGregor's return would be against the winner in order to cement the true champion of 155-pounds — although McGregor has a history of bucking tradition.
Not that Kavanagh believes McGregor needs to follow the usual trends.
"At this stage, I mention Diaz and people are shouting, 'What about Khabib?' or, 'What about Tony?' … And there's Kevin Lee and some other guys — 'They're due their shot!'," Kavanagh said.
"Really, Conor doesn't have to do that anymore. He won the featherweight belt, interim and unified. He won the lightweight belt. At this stage he's only doing fights because they're fun. A big fight build-up and to win that — that will do for me anyway."
Comments
comments