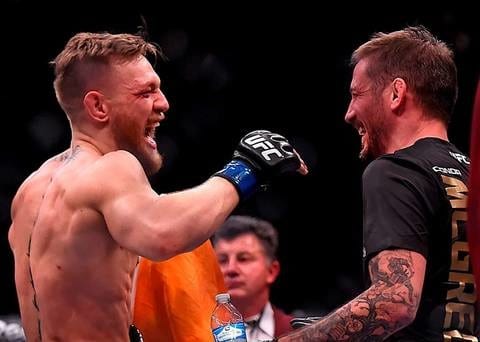 At the moment, Conor McGregor vs. Khabib Nurmagomedov may be the biggest fight the UFC could play host to. Both elite level lightweights with strong personalities, the two also have a sizeable following from their home countries that few can lay claim to.
Combine that with how their styles match up — McGregor's exceptional striking against Nurmagomedov's renowned grappling — and you get a recipe for a barnburner. With Nurmagomedov expected to face Tony Ferguson on April 7, a win there could essentially confirm the bout is happening upon McGregor's return to competition.
Certainly, it's an outcome SBG and McGregor coach John Kavanagh is preparing for.
"They're on a path to meet each other, so I'm of course watching everything he does," Kavanagh said, speaking on the WimpToWarrior Facebook page. "In his last fight, I just think when you're facing somebody with the type of stopping power Conor has in his hands, if you just stand very upright and look to walk towards somebody and get a body lock, that's a risky strategy. Now, [Edson] Barboza is a great kicker, but trying spinning kicks on someone who can close distance quickly like Khabib and has a body lock heavy grappling game, it's maybe not the best idea.
"For somebody who can make people overextend themselves and who has genuine one punch knockout power – and we've seen Khabib get rocked by Michael Johnson for example – I find it hard to envisage anything other than Conor knocking him out."
That's not to say it's an easy task. Kavanagh knows that one of Nurmagomedov's best weapons is his unrelenting pressure, as shown in the Barboza contest at UFC 219. To combat that, McGregor will have to be, Kavanagh says, in phenomenal shape.
"We have to be ready because has shown that he can walk through some shots. There will be those grappling exchanges, and we've got to be in great shape," Kavanagh said. "We've got to be in great shape, we've got to be ready for his chain wrestling and how he puts his takedowns together. That's a matchup as a fan I would love to see. I think it's an ultimate striker versus grappler matchup, but of course they're well-rounded in all areas. But I think Conor's striking and his submission game as well would cause problems."
All in all, however, Kavanagh really only sees one outcome. With Nurmagomedov's forward movement and willingness to get tagged on the way to engaging the grappling, McGregor has an opportunity to land that trademark left hand.
"Long story short, I think within two rounds Conor would knock him out. I think it would be maybe like the Eddie Alvarez fight, and he would stop him in the second," Kavanagh said. "He's a different level of grappling with that intensity that he brings. It's just a dangerous strategy. When I looked at how he closed distance in the Johnson fight compared with the Barboza fight, to me he hadn't evolved an awful lot.
"It's still relying on the ability to walk through the shots and then that pressure starts up against the fence. There are no many people better in the world than him at that, but a fight starts standing and it starts separated. If you watched the second Diaz fight, [McGregor] was able to defend himself up against the fence very well there. If you watch the Eddie fight, when Eddie was trying to take him down off the fence he was able to defend himself very well there. It is an area that we put a lot of time and effort into, of course we put a lot of time and effort into everywhere."
So will it happen? It's been in demand for quite some time, after all.
"I can't see it not happening this year," Kavanagh said. "And when it does, and all the details are finalized, between the build up and the press conferences and everything, it's going to be a typical Conor McGregor fight in that it stops the world. It will be incredible, and I really hope it happens. I'm really looking forward to it."
Comments
comments