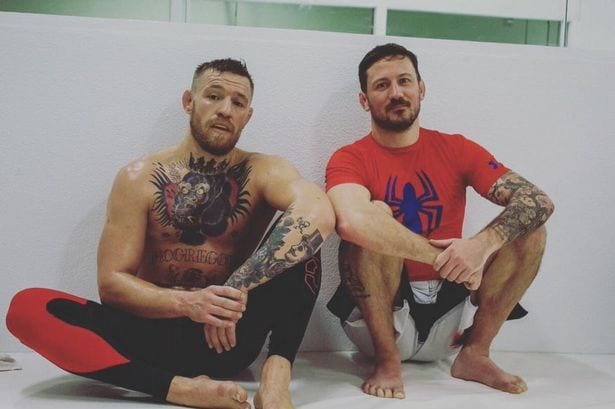 When Conor McGregor took a dip into the world of boxing for a mega-contest with Floyd Mayweather last year, millions around the world watched. Now, as the UFC lightweight champion eyes a return to the UFC, some portions of the fanbase are getting impatient, particularly with stylistically interesting contests awaiting him in Tony Ferguson and Khabib Nurmagomedov.
For McGregor himself, he appears content to continue negotiating with the UFC until he feels he's being fairly compensated for his time in the cage. For his team and his longtime coach John Kavanagh, they view the unrest and negativity with some skepticism — particularly in light of the Irishman's already considerable achievements.
First they complained about Aldo,St.Pierre,Silva not moving up…now they complain about the only person to ever challenge himself by moving up and taking on a harder challenge!!!

— Artem Lobov (@RusHammerMMA) January 7, 2018
"Conor's still the champion, they can say what they want," Kavanagh said, speaking with BBC Northern Ireland. . "I have his belt at home actually. He's still the champion. He's making the decision on what makes sense for the next move. It's kind of early days yet, we're just watching how that has developed while he's been away, he's had other things on. Let's see what happens in 2018, I'm excited about it anyway."
As anyone who follows his social media will attest to, McGregor is back in the gym and training once again, something that Kavanagh believes is just the first step on the way to another huge year in McGregor's career.
"I'm happy to see him back [in] regular training," Kavanagh said. "He had a lot going on in his life, a lot of stuff outside of fighting going on in his life, and he seems to be getting the hang of all that. He's back training almost everyday now, and I think 2018 will be another big year for us. Exactly what that is, I don't know yet. The plan is forming, as you say, stay tuned."
🤔What's next for @TheNotoriousMMA?

Coach John Kavanagh has confirmed that McGregor has returned to training and he expects the Dubliner to focus on defending his UFC lightweight title in 2018

Full interview➡️https://t.co/VYSSoFDcy7 pic.twitter.com/CtsskdBr1Z

— BBC SPORT NI (@BBCSPORTNI) January 7, 2018
–
Comments
comments