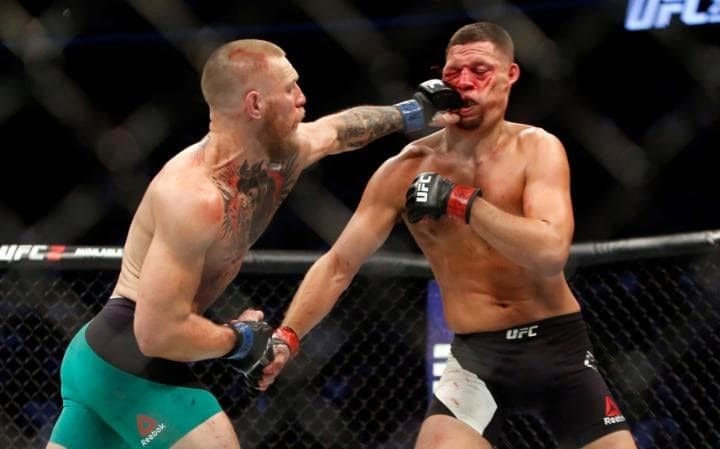 What initially began as a patched up UFC 196 main event after then lightweight champion Rafael Dos Anjos withdrew from his title defense against Conor McGregor two years ago has since swelled into one of the most intense rivalries in UFC history.
Through two fights and six and a half rounds of intense action, Conor McGregor and Nate Diaz tested each other to their limits in what were two of the most watched — and most profitable — bouts in mixed martial arts history.
With the score between the two standing at one victory apiece, speculation has been mounting as to when, or if, McGregor and Diaz will meet in their rubber match but, as John Kavanagh explained in an interview with Andrew McGahon of TheMacLife.com, Diaz's inactivity since the August 2016 rematch with McGregor is hampering his chances of signing a third bout agreement to face the UFC lightweight champion.
"There's a beautiful relationship between Conor and Nate, in terms of there [being] a great back and forth between them outside of the cage and inside of the cage," Kavanagh said from his office in SBG Ireland.
As interesting as a third McGregor/Diaz fight would be, the UFC landscape has changed considerably in the 18 months since they last squared off. The interest in seeing McGregor face the winner of the April 7th meeting of Tony Ferguson and Khabib Nurmagomedov has, in Kavanagh's opinion, eclipsed the interest in a third fight with Diaz.
"It's a lovely fight. His five round rematch is still one of my favourite fights. That being said, I did assume that Nate would be as busy, or busier, than Conor. You know, Conor's had an MMA fight and a boxing fight since. We haven't seen Nate since so I started changing. You could see it among the fans who, I've always said and I still do believe, are the most important factor because they pay for the pay-per-views they want to see.
"It was clearly becoming that [the fans] wanted to see Khabib or Tony in there rather than Nate, probably for the same reason that Nate didn't keep busy. So, I don't think it would be quite right for [McGregor vs. Diaz III] to happen before the winner of Khabib/Tony because all of Conor, Khabib and Tony have kept busy. Nate hasn't."
No matter, though. For a fight camp who place great emphasis on the power of visualisation, Kavanagh sees one particular path for his fighter with crystal clarity.
"I think Nate should get one in in the meantime. Him and Woodley, I hear there are rumours of that or him against a good lightweight. If the MMA gods smile, it would be a victory for [Diaz], Conor fights the winner of [Nurmagomedov/Ferguson] and then you've got this amazing superfight for new year's eve."
*Note: Kavanagh mistakenly refers to Nurmagomedov as 'Tony' twice in the above video.
Comments
comments