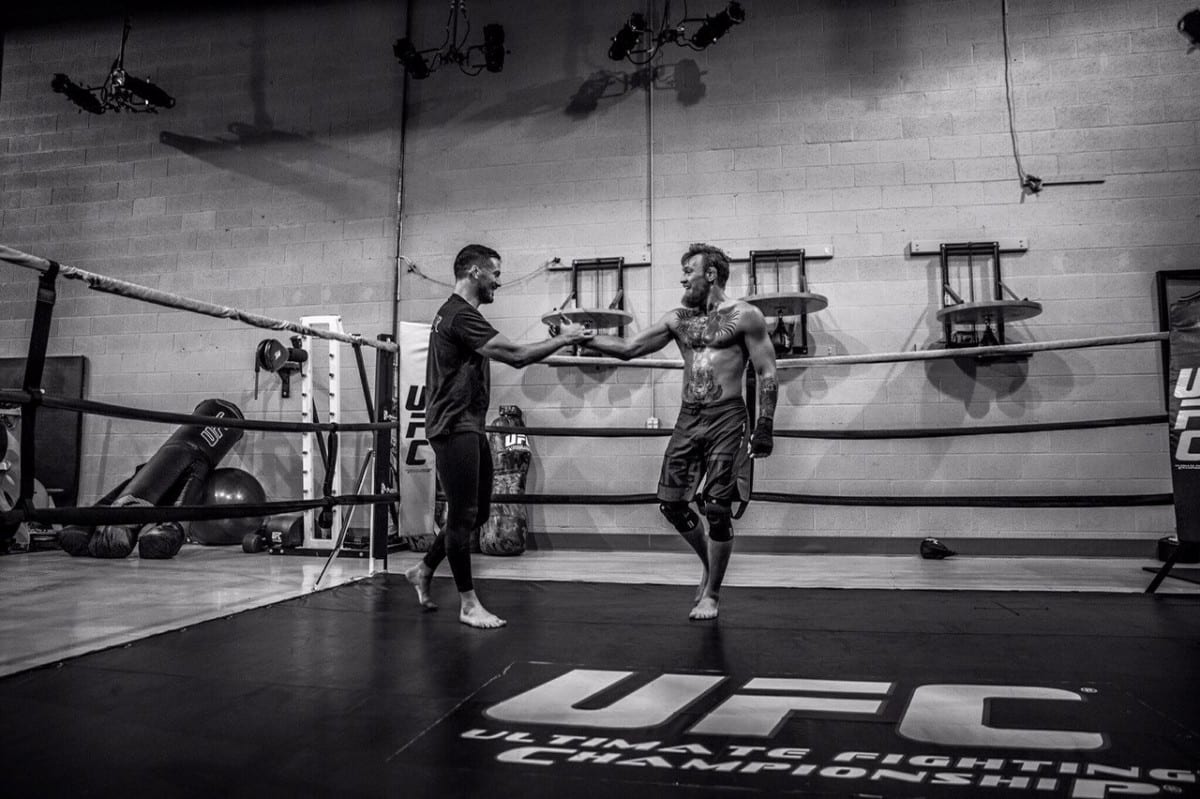 No one, other than Conor McGregor himself, has had as close a view of the Irishman's ascent through the mixed martial arts landscape over the past few years as John Kavanagh. The SBG Ireland head coach has been the foundation from which McGregor's success has been built, helping guide his career from the day he first walked into the gym to becoming one of the most well-regarded fighters in combat sports.
Kavanagh recently took a trip to Australia for a number of speaking engagements and to promote his memoirs Win Or Learn and, as you might expect, the topic of the UFC lightweight champion was raised on a number of occasions and, perhaps more succinctly, the status of the McGregor vs. Mayweather bout was chief among fans' queries.
"What I see happening this year is the Mayweather fight, maybe the end of the summer or something like that", Kavanagh said. "(But) let's say Mayweather doesn't want to do it, for whatever reason. Then I could see us fighting in MMA by the end of the summer, (for) the lightweight belt. One thing you've got to understand about Conor — and this might rattle your bones — is his motivation is not money when it comes to fighting. Right now, even with his ridiculous spending habits, he wouldn't be able to spend his money by the time he retired. It's not money that's getting him up in the morning. It's the competition. It's facing someone he genuinely feels is a threat.
"Like when we lost to Nate (Diaz), he could've gone straight down to lightweight and fought (Eddie) Alvarez, who turned out to be a pretty straightforward opponent. But that wasn't his interest. His interest was 'I've got to beat this guy, this guy's beaten me'. That's a real challenge … I don't know what name out there in the lightweight division is that guy. I would have loved to see Khabib (Nurmagomedov) and Tony (Ferguson) have a great fight (for the interim title), the winner win definitively and get on the mic and call out Conor. And I know that would get him riled up. That didn't happen."
The failed bout between the Nurmagomedov and Ferguson, cancelled following the Russian falling ill while attempting to make the lightweight weight limit, failed to provide an undisputed number one contender to the McGregor's 155-pound UFC title but nonetheless, Kavanagh shared his thoughts on both fighters.
"I had picked Khabib to win that", Kavanagh explained. "I thought he would be in a few difficult situations for the first round or two and then he'd wear down Tony as he does to all his opponents. It will sound cocky but I genuinely don't see a massive challenge in either of them. If you look at their last couple of fights — Khabib got badly rocked by (Michael) Johnson and he really struggles to make that weight. I think a great fight for Khabib would be Gunnar Nelson (at welterweight) this summer. Khabib actually weighs more than Gunnar outside of fighting. I've heard he weighs 90kg. Gunni is 81kg. And Tony, he fought that guy (Lando Vannata) who just came into the UFC and got punched around for a couple of rounds and then fair play to Tony, he's tough as nails, he took a lot of punishment and then went on to win. But you can't do that with Conor. In round one, if you eat four or five solid shots, unless you're Nate Diaz, you are going to be unconscious. He's a one-off. That's just Homer Simpson there. He's a one-off."
Kavanagh went on to gives his thoughts on a potential third UFC title for McGregor at welterweight. Some friction developed between McGregor and champion Tyron Woodley at UFC 205 in New York last November but Kavanagh says that Woodley is the type of fighter than McGregor is tailor-made to beat but he says that SBG Ireland teammate Gunnar Nelson already has his eye on that particular prize.
"I'd fancy him in there with (current champion Tyron) Woodley … he's just another wrestler with an overhand right, and that's the type Conor grew up knocking out. So I wouldn't see a massive challenge in that. But I would like to see Gunni get that belt. Gunnar Nelson will be the next SBG world champion."
You can read more from the wide-ranging Q&A with John Kavanagh at news.co.au.
Comments
comments